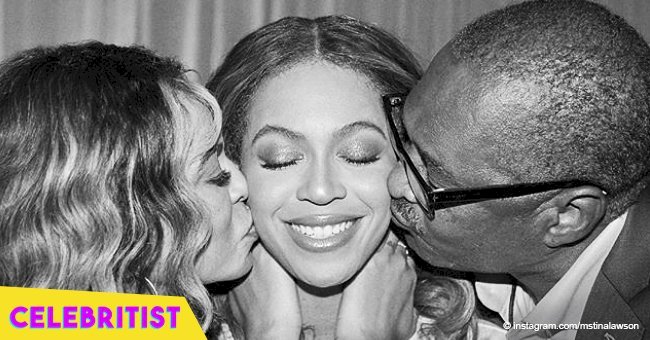 Beyoncé is all smiles in rare pictures with her mom and dad following their divorce in 2011

It's been seven long years since Beyonce's parents, Tina and Mathew, filed for divorce. Since then, the pair has not been seen together up until recently, when they supported their daughter's last show on her "On The Run II" tour with Jay-Z.
Setting their differences aside, Tina, 64, and Mathew, 66, reunited backstage for their daughter's last show in Seattle, Washington, last Tuesday night, where they posed alongside one another to commemorate this special moment in their daughter's eventful life.
Given that the both of them raised Beyonce to be the superstar that she is today, Mathew and Tina felt the need to both be there for their daughter despite all the issues that they have faced during their rocky divorce. For the love of their child, they were able to put aside their issues with one another and just be present to support their eldest daughter in her latest success - a sold-out and three-month-long tour with her husband, which was also used to debut their latest album called "The Carters".
Their divorce sprung to life when Mathew was caught being unfaithful to his wife of 31-years after he was discovered to be the father of not just one child out-of-wedlock, but two.
After a relationship with actress Alexsandra Wright, Mathew fathered a son named Nixon, now eight-years-old. He is also the father of Koi Knowles, an 8-year-old girl that he shares with 34-year-old TaQoya Branscomb. After a paternity test conducted, Koi and Mathew's DNA had a 99.998% match, which meant that he is the father despite claiming to have had a vasectomy during his relationship with Branscomb.
When Tina found out about his infidelity, she was certain that their relationship had to end then and there. Despite being together for more than three decades, she felt it was finally time to let go in order to give each other the space they need to continue on with each other's lives without hurting one another even more.
Since then, they have both moved on, with Mathew Knowles marrying Gena Charmaine Avery in 2013, and Tina marrying Richard Lawson in 2015.
Please fill in your e-mail so we can share with you our top stories!