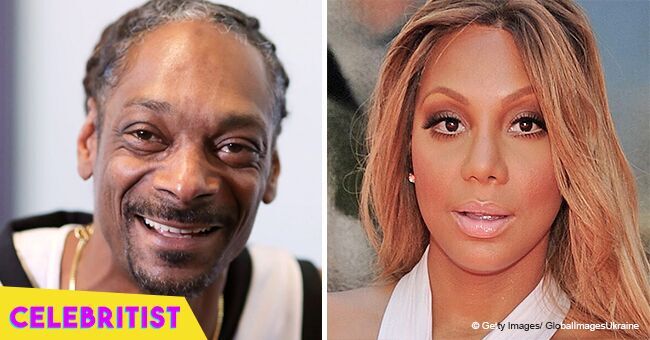 Tamar Braxton stuns in tight, white jumpsuit in recent picture with Snoop Dogg
Snoop Dogg and Tamar Braxton have been working together for a series of shows, and the results have been impressive. The entertainer recently shared a photo of her looking sleek in a tight white jumpsuit, while onstage with Snoop.
Back in August, Tamar and Snoop Dogg announced their latest collaboration, exciting fans after they shared the news that they were going on tour together.
The project, called "Redemption of a Dogg", is a stage play that would feature the two artists singing, dancing, and rapping, all in one stage.
Of course, fans were thrilled with the news when they first announced it, anticipating their announcements of when tickets would go on sale.
" CAN NOT WAIT FOR THIS! We need to stay consistent on when tickets will be released because WE ARE GOING! Idc idc. Imma get my life"
"Wow who knew!!! Can't wait til u guys stop in Cleveland Playhouse Square"
Now that the tour is on-going, it seems the two of them are enjoying themselves, and they seem to be getting a hang of the story. In a photo posted by Tamar, she sported a white wig and an all-white jumpsuit which accentuated her curves, while lending a helping hand to Snoop, who could be seen sitting down on the floor with his legs extended.
Clearly passionate about what she is doing, Braxton captioned her post with "We be wilding!!!'.
Tamar has a lot of free time on her hands given that she has quit appearing on her family's hit reality tv show "Braxton Family Values", so fans can expect to see her on tour with Snoop Dogg for as long as she possibly can. Her only other commitment would be being a mom to her son with ex-husband Vincent Herbert, but other than that, she is definitely allocating all her time and effort on this tour.
Please fill in your e-mail so we can share with you our top stories!