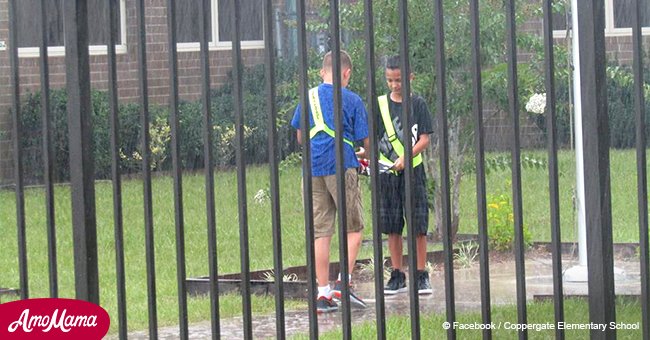 Teacher learns the truth in the pouring rain as two pupils hold national flag
Isaac Davis and Nate Helmath are members of the safety patrol at Coppergate Elementary School in Middleburg, Florida. One of their duties is to fold the US flag during dismissal.
They became internet sensations for their patriotism when they stood in the rain to perform their duties. A staff member at the school took pictures of them and shared them on Facebook.
Isaac Davis and Nate Helmath, both 11 at the time, were standing outside in the rain folding their school's flag thinking no one was watching. However, Coppergate Elementary School media specialist, Kim Miskowski, saw everything and took pictures.
The images showed the two boys patiently folding the flag while getting drenched rain. Even though it was dismissal time, the boys completed their task with the utmost care and attention.
For more on this story go to our Twitter account @amomama_usa. Miskowski said:
"Not only did they bring the flag down, they also stood in the wind and rain and calmly completed the 13 folds. Then Nate protected the flag as he walked with honor and respect to retire it for the day."
When asked about how he performed his duties Helmath said:
"I feel like it was the respectful thing to do."
Helmath has military parents and his father was wounded in the Army. On the school's Facebook page, Miskowski captioned the images: "This is what respect looks like at Coppergate."
During an interview, the media specialist shared:
"They were folding the flag reverently. They were reverent. And they were doing 13 folds … and you know, our country is in a little bit of turmoil … it just struck me. When they walked away they held it … cradled it to protect it. And it was just a moment that was meant to be, I think."
The two boys were praised for their patriotism. The American national flag consists of thirteen equal horizontal stripes of red and white.
It also has a blue rectangle that has fifty small, white, five-pointed stars arranged in nine offset horizontal rows. The stars represent the fifty states of the US.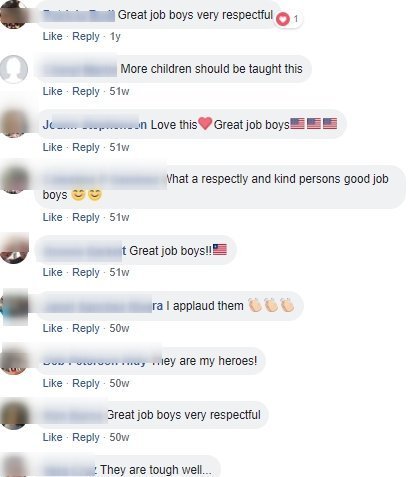 Source: Facebook/Coppergate Elementary School
The thirteen stripes represent the thirteen British colonies that declared independence from the Kingdom of Great Britain and became the first states in the US. Its nicknames include the Stars and Stripes, Old Glory, and the Star-Spangled Banner.
Please fill in your e-mail so we can share with you our top stories!