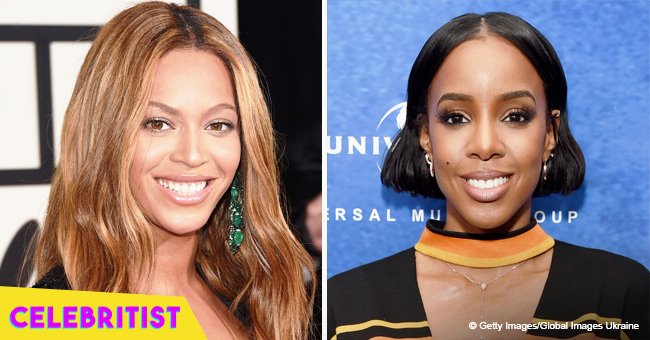 Beyoncé flaunts slimmer curves in 'leggy' velvet dress posing with Kelly Rowland in pic
Former Destiny's Child members Beyoncé and Kelly Rowland, recently reunited for a special evening at the City of Hope gala in Los Angeles, and the "Partition" singer took to Instagram to share a few pics from the event.
The gorgeous singers, who are also childhood friends, looked stunning as they posed together at the red carpet of the gala, where Beyoncé gave an incredible performance at the end of the evening.
In the pic shared by Knowles on Instagram, she's seen rocking a long sleeve black velvet gown with embellished shoulders, and a thigh-high slit on her left side that put her toned leg on display. She completed the look with strappy sandals, a huge sparkly necklace and silver rings, and earrings.
Beyoncé left her long curly locks to fall on her back, while Rowland looked terrific with her hair brushed to the back to enhance her facial features. She rocked a sparkling champagne long dress and completed the look with diamond earrings and a huge ring.
The pair was caught smiling softly to the camera and then bursting into laughter in the following shot, proving that they still have a great time everytime they get together.
THE HONOREE OF THE NIGHT
Beyoncé shared more pics of the evening alongside her husband Jay-Z, Warner Chappel Music chairman and CEO Jon Platt, who was the honoree of the night, Pharrell and Usher. She captioned one of the posts:
"It was my pleasure to honor my friend Jon Platt for all the good work he does for The City of Hope. City of Hope makes creating medical miracles its priority in the fight against cancer and life-threatening diseases. If you'd like to help, you can contact them at cityofhope.org."
City of Hope is a non-profit organization that wants to create a difference in the world by providing care, researching and developing educational programs focused on diseases like cancer, diabetes, and other life-threatening illnesses.
Last Thursday, City of Hope recognized Jon Platt with the Spirit of Life Award for his work with the organization and his impact on the music and entertainment industry. Jay-Z handed the award, after giving an emotional speech in which he referred to Platt as the "Obama of the music industry."
BEYONCÉ'S PERFORMANCE
According to Forbes, after giving a speech that was even more powerful than Jay-Z's, Platt introduced Beyoncé as the final performer of the night in front of a crowd of 1200 people from the music and entertainment industry. "'I left my last thank you to Beyoncé. I'm so lucky to work with someone that inspires me the way she does," he started.
And continued:
"I'm so lucky to work with someone that every time I walk away from her I say to myself, "I gotta work harder.'"
The 37-year-old proceeded to give a flawless rendition of some of her slow songs, giving the tone of the event. She flaunted not only her curvaceous figure in a feathered sparkly white dress and stilettos but also her powerful voice with songs like "Halo" and "Ave Maria."
Beyoncé and Jay-Z recently ended their second joint tour, "On The Run II," which was filled with pregnancy rumors, celebs visits, presidential audience members and even the donation of thousands of dollars in scholarships for children all around the country.
Rowland wasn't spotted during the tour, but it hasn't been that long since the women reunited on stage, as they surprised the crowd at Coachella earlier this year when Michelle Williams and she joined Beyoncé to perform some of Destiny's Child biggest hits.
Please fill in your e-mail so we can share with you our top stories!