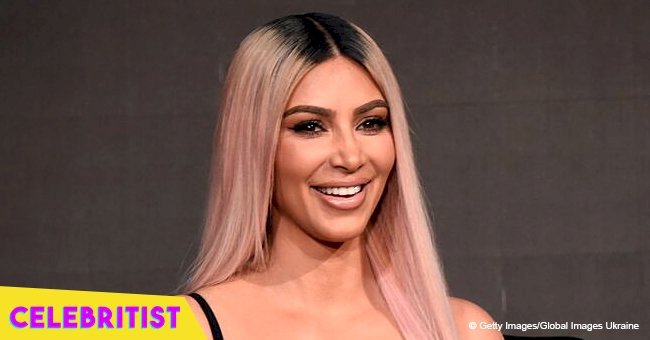 Kim Kardashian mommy-shamed after sharing pic with Chicago without socks & Saint with candy dummy

Kim Kardashian-West may be many things to different people, but when it comes to her brood, she's a full-on Mama Bear. The reality star had some words for mommy-shamers who came for her again over a picture with her kids.
Kim was missing her children yesterday when she decided to post a shot of her and her two youngest. The 37-year-old looked stunning in a bright pink jumper and leggings that did nothing to hide her famous curves. She wore a sleek, high ponytail and a face full of make-up. She also paired her outfit with a pair of sneakers.
Kim strolled down the sidewalk while holding on to her son, Saint. The two-year-old also rocked a sporty ensemble and sucked on what looked like a pacifier. Nine-month-old Chicago sat comfortably on Kim's hip and was held in place by the star's firm hand.
The "KKW Beauty" founder originally captioned the post:
"Missing my babies!!!!!"
TROLLS IN THEIR NUMBERS
In no time, online trolls and mommy-shamers made it to her comments section, berating her for letting Saint have a pacifier beyond a suitable age.
One person said:
"Children shouldn't be using a pacifier past age 1, it's recommended that they don't use one even after 6 months …It ruins the development and shaping of their teeth. Just like a bottle."
MOMS UNITE
This prompted a barrage of replies from fellow moms who could not stand watching Kim being shamed. Some went as far as sharing their parenting experiences.
"Oh, so what if it was was a pacifier!" read one comment. "Moms and women should support each other and not tear each other down."
Another mom remarked:
"So what if it was a pacifier!? My boy is almost 4 and still has one and my eldest had one until he was 5 so let nobody say anything if the child is happy! What's wrong with a pacifier even at his age … it's better then his thumb or fingers. Let him be a kid. They already grow up too fast."
Kim was forced to edit her caption to include a disclaimer:
"P.S. mom shammers it's not a pacifier, he's eating candy!"
UNREPENTANT TROLLS
But to prove that trolls will be trolls, Kim's new caption sparked a new round of negative comments:
"Candy is worse"
"Stop candy pacifier, instant tooth decay!!"
Others chose to focus on the fact that Chicago, fondly called Chi, had no socks on:
"Everyone's worried about the pacifier (candy) but no one notices the baby has no socks on!"
"Where is chi socks? It's cold!"
GETTING USED TO IT
The "Keeping Up With The Kardashians Star" is no stranger to being mommy-shamed. A similar incident happened in June when the mom-of-three was called out for straightening the hair of her first child, North West. It's become such a common occurrence that Kim regularly includes a disclaimer in her posts.
She shared a video of North doing her makeup last month and had to include in the caption, "Relax Mom shamers it's coming off in a few mins. I needed a bribe to get out of the door… you feel me?!?!?!"
Similarly, the reality star posted a photo of Saint carrying Chi on his shoulders and made sure to add, "Don't worry I'm holding her up from the back."
It can't be fun to have everyone up in your business, but it looks like Kim's got this covered.
Please fill in your e-mail so we can share with you our top stories!