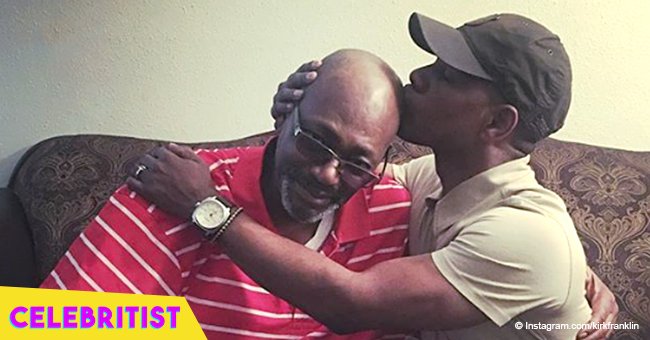 Kirk Franklin's biological father passes away weeks after they reunited
Kirk Franklin's announced his biological father's passing in an emotional video. The gospel artist just met the man a few weeks ago and even struggled to forgive him.
Kirk Franklin has just received news that his biological father whom he only met and forgave a few weeks ago has died.
A CALL FOR FORGIVENESS
It was a struggle for Franklin to reconnect with his father, Dwight Allen after he received an anonymous call last month informing him of Allen's terminal illness. The gospel artist grew up hating the man for giving him up for adoption.
Following the call, Franklin opened up to his followers on Instagram and shared the emotions he felt at the time and how he responded.
"I've lived my entire life hating this man. He and my biological mother gave me up for adoption, and it left me never feeling good enough....to this very day. I took my hate for him and used it as fuel to be the best father I could be for my own."
But Franklin's better side prevailed and he decided to give Allen a chance.
"How can I preach what I don't practice. So I flew to Houston yesterday to do that. It's painful, it's a process, but how disappointed I would be in myself for this man to leave this earth without being forgiven."
Franklin met Allen and even kissed him in the forehead in a photo he shared.
NO REGRETS
Weeks later, he received another call telling him his father was gone.
In a video he posted on Instagram, Franklin announced his father's death, grateful that they met and he forgave him.
"So many emotions. Being abandoned, being adopted, and when I got that call, I knew I didn't want to continue living in that. So, I fought past it, moved past it and got on the plane, and I'm so glad I did. I just got a call tonight that he passed."
Franklin also used the moment to encourage others to forgive. "It's painful, but it's necessary," he says and adds,
"It's necessary because they deserve it, you deserve it, and both of ya'll deserve the same grace that we all want God to give us. That amazing grace."
ESTRANGED SON
Prior to his reunion with his father, Franklin also struggled with issues concerning his estranged son. In August, Kerrion Franklin accused his father of trying to kill him in an Instagram post. The eldest son of Franklin who was born before his marriage to Tammy feared for his life at the time.
CONVICTED SISTER
The accusations came just a month after Franklin's sister was sentenced to prison for 30 years. She was convicted for drug-related charges. Franklin even expressed regret in not being able to do more for his sister.
No doubt there's been a lot of pain in Franklin's life in the past months. Meeting his father and forgiving him turned out to be a reprieve. Now that Allen is gone, a new wave of pain has emerged. Here's hoping Franklin gains strength in this difficult time.
Please fill in your e-mail so we can share with you our top stories!