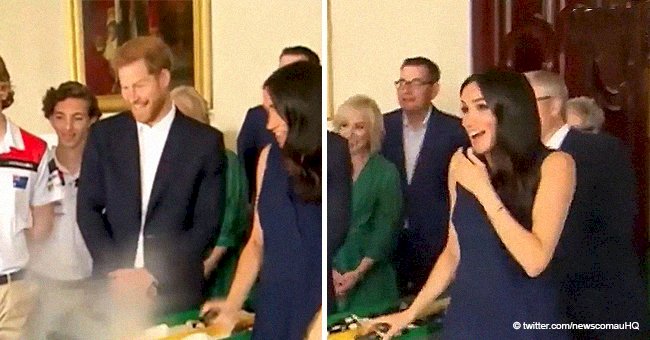 Meghan Markle shuddered with fear from a loud bang, but her reaction after that was captivating
Prince Harry and Meghan Markle got to play like kids again during a Melbourne visit. Along with the toys came typical loud noises that Markle wasn't prepared for.
The Duchess of Sussex met students from The Trinity Grammar School on October 18. The boys there had prepared a miniature F1 cars demonstration.
When asked if they wanted to race, the royal couple obliged. Harry, clearly a child at heart, gave a fist pump in response.
Follow us on Twitter for more @amomama.
It was very quiet until Harry, 34, and Markle, 37, launched their 3D printed cars. The clip is found below.
A blast sounded in the hall and Markle covered her mouth before bending over in laughter. In a slight shock, she adorably spoke the obvious:
"I was not expecting that!"
The students kindly offered Markle another go at it to which she replied, "No, thank you!"
The award-winning mini cars were on display at the Victoria's Government House reception. They were among several others but likely left the strongest impression on Markle.
Harry also loved the cars. When he found out they were 3D printed he said:
"3D printing being put to good use. That is fantastic."
The event involved about 350 officials and young Victorians. They showcased their entrepreneurial projects. The Governor of Victoria, Linda Dessau, hosted the creative display.
The Duke and Duchess of Sussex recently announced their pregnancy this weekend. The pair is already getting a taste of the unconditional love of children.
While walking through Dubbo on Wednesday, they were treated to a sweet hug from a young boy with Down Syndrome.
The boy, Luke Vincent, was waiting to give Markle a bouquet of flowers. He got distracted by Harry's scruffy beard and played with it for a while.
Then the kindergartner went in for a big hug from Markle before returning to Harry's beard and then giving him a hug too.
The principal of Luke's school, Anne Van Dartel, explained that the Buninyong Public School student loved beards. So much so, she said:
"Luke's favorite person was Santa Claus, who has a beard... and now it's Prince Harry."
The prince may have another favorite person in a war hero. He had his wife meet her just Monday.
A 98-year-old named Daphne Dunne waited outside the Sydney Opera House. She wanted to meet a royal for the third time.
Harry had met the woman twice already in past years. This time, he introduced Markle to her. The lady had heard the big news and said:
"Congratulations, I think that's marvelous. It's just what Harry needs."
Markle expressed that she'd heard a lot about the lady and said that maybe next time, they'd "have a little one with us."
The elderly lady gave the couple a card and flowers. She also stole another kiss from the prince.
Since she'd done it the first two times they met, we're sure Harry wasn't taken aback. Unlike his wife and those 3D cars she tested out later in the week.
Please fill in your e-mail so we can share with you our top stories!