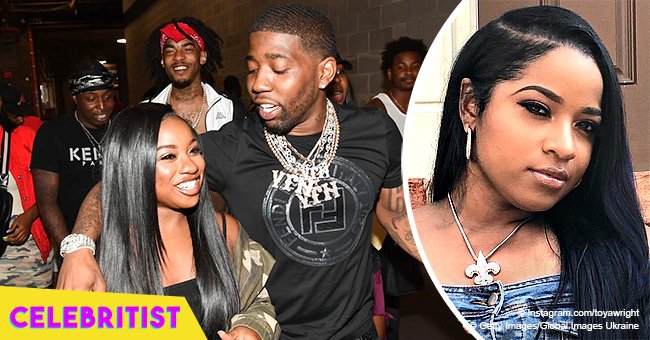 Toya Wright reveals why she disapproves of Reginae's romance with YFN Lucci
Toya Wright and Reginae Carter get into an argument over Reginae's older boyfriend, YFN Lucci. Toya reveals she's not in favor of their romance.
Reginae Carter was born in the limelight. Her mother, Toya Wright was only fifteen at the time and her father, rapper Lil Wayne was an important entertainment figure. It goes without saying her life is an open book, exposed to the scrutiny of the public eye.
AGE-DEFYING RELATIONSHIP
When the 19-year-old hooked up with 27-year-old rapper YFN Lucci this year, fans criticized their relationship due to their age gap. Reginae was the first to defend their romance and resumed flaunting it in public. Her mother remained mum but it's now been revealed she too isn't in favor of the relationship.
WHY NOT?
In a clip from "T.I. and Tiny: Friends and Family Hustle" obtained by Page Six, mother and daughter argued over Reginae's love life. Toya said that as much as she liked Lucci she didn't like their age difference. Toya added that she didn't appreciate the idea of the rapper having four kids and Reginae filling in as their stepmom. Despite her daughter's reassurance that she wasn't taking on the role, Toya had another issue to bring up.
"You know how I feel about that whole rapper thing. I dated your daddy when I was younger than that and there's a whole lot that comes with that lifestyle. And that's the last thing I want or any mother want."
Toya also reminded her daughter not to get into things with the rapper that would hurt her image. She cited her past as an example.
"I used to go out of town with your daddy. I [went] to all these after parties and stuff, concerts, back to the hotel."
But Reginae is a grown woman who has her own mind. She stressed that to her mother and told her that her situation was different. She even insinuated her mother was boring.
A MOTHER LOOKING OUT FOR HER DAUGHTER
Granted that Reginae is older than her mother was when she was dating Lil Wayne, Toya is just really looking after her daughter. She's aware that it's tough for Reginae growing up as the daughter of a famous rapper. Reginae admitted this herself in the past when she was betrayed by a friend.
"She never showed me a side of her to being fake or that she was just here for the benefits … but it did not quite end up like that. So at this point in my life, I really have to see who is there for me, and it is really hard."
It also doesn't help Toya's cause hearing about her daughter getting arrested along with her older boyfriend. A video circulated in June showing Lucci being cuffed and seated at the back of a police car. Details of the arrest are unknown and it wasn't clear if the pair were detained in jail. Reginae, however, gave an update later that she was okay and not in jail.
Every mother only hopes their daughter is safe and free from hurt. Though Toya may have a point to be wary, her daughter must realize it on her own if her relationship isn't healthy. Reginae has been seeing Lucci for months now. The couple seems to be going strong and only time will tell where their relationship leads them. In the meantime, Toya will just have to pray for the best and hope her daughter keeps her words in mind.
Please fill in your e-mail so we can share with you our top stories!