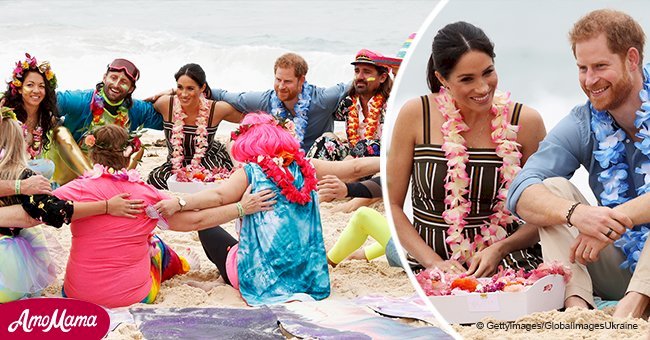 Meghan Markle demonstates how to do 'beach chic' in a striped dress
Meghan Markle and Prince Harry wore bright leis as they strolled on the beach. Markle strutted in a stunning £1,080 maxi.
The Duke and Duchess of Sussex visited Bondi Beach around 8:30 a.m. on Friday. The founders of a community group called OneWave greeted them.
A pregnant Markle displayed the work of Australian designer Martin Grant. The piece was available online but is currently sold out. She paired it with some Castner espadrilles shoes which cost £80.
The dress Markle wore was sleeveless and striped. It featured an olive background with white and brown stripes. The form-fitting dress showed off the Duchess' slim body. She is about four months along in her pregnancy.
Markle wore a natural makeup look to go with the casual chic dress. She put a nude lip with eyeliner and mascara. Her hair was loosely pulled back in a low ponytail.
Earlier this week, Markle flaunted a chic blazer designed by bestie Serena Williams. She also kept her look natural and was perfectly fashionable as always.
The pink and yellow leis went well with Markle's dress. She removed her wedges to walk the sand. According to PEOPLE, she and Harry spoke to OneWave founders Grant Trebilco and Sam Schumacher.
The pair's group focuses on raising awareness of mental health and well-being issues. Harry joked that he was "underdressed" for the occasion.
He and his wife participated in what is called a "Fluro Friday" session. They sat in an "anti-bad vibe circle." There, group members are encouraged to talk about their mental health experiences.
Markle let the group in on her pregnancy woes so far. She told them she'd been up since four a.m. She described her experience as "having jet lag without actually traveling."
Markle, who loves and practices yoga, spoke with some yogis at the beach. Markle's mom, Doria Ragland, used to teach yoga in the United States.
Meanwhile, Harry interacted with surfers. He even ended up waxing a surfboard.
The couple was presented with more gifts for the new baby which they announced last weekend. This time, they got a giant stuffed teddy bear and some carrots among others.
"Hun, we got some veggies!" Markle shouted to Harry.
They also received a tiny lifeguard costume for the new baby who is expected in Spring of 2019.
The pair are slotted to continued their 16-day tour by visiting Fiji, Tonga, and New Zealand.
Throughout their journey, we will see how well Markle is able to follow protocol for her royal pregnancy.
She will have a few rules to stick to. This includes modest maternity wear that doesn't show her growing bosom. Also, she has to keep her toes covered regardless of the risk of swelling.
For the baby, there will be no gender reveal to the public. We are to find out that information soon after the baby is born. Additionally, the new baby will wear a replica of an 1841 christening gown for the ceremony.
A more bizarre tradition followed in royal pregnancies is that the queen must be told first. And, in the past, a home birth was the norm. That has changed, however.
As Markle and Harry leave the Sydney beach, they will meet with Prime Minister Scott Morrison.
Then Harry is supposed to announce the Invictus Games arrival to Sydney by raising the Invictus flag on the Sydney Harbour Bridge.
Please fill in your e-mail so we can share with you our top stories!