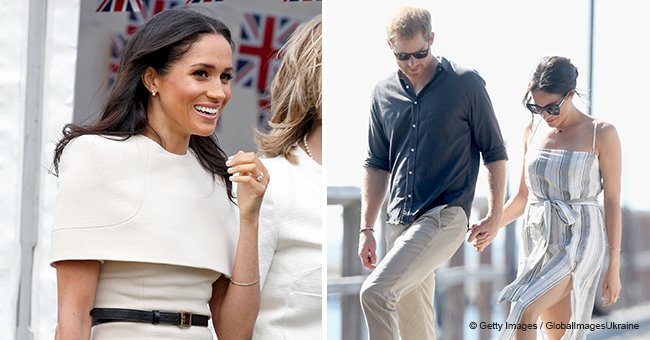 Flashback on Meghan Markle's baby bump as it has grown month-by-month
Meghan Markle's baby bump is clearly visible as she now feels comfortable wearing accentuating clothing after the official statement got issued by Kensington Palace that Prince Harry and Meghan are expecting their first child.
Thought to be about four months pregnant and with a statement remarking that they expect their bundle of joy to arrive in Spring, Meghan is due to give birth in March or April 2019.
Every pregnancy is different for each woman, however, it is often around the 12-week mark they start to show signs of a baby bump. Following is a monthly view on Meghan Markle's progress as she goes further into her pregnancy.
Read more on our Twitter account @amomama_usa.
JULY
No signs were visible at this early stage as Meghan must have just fallen pregnant when she visited Ireland the same month. Prince Harry and Meghan had got married 2 months before in May and were eager to start their own family.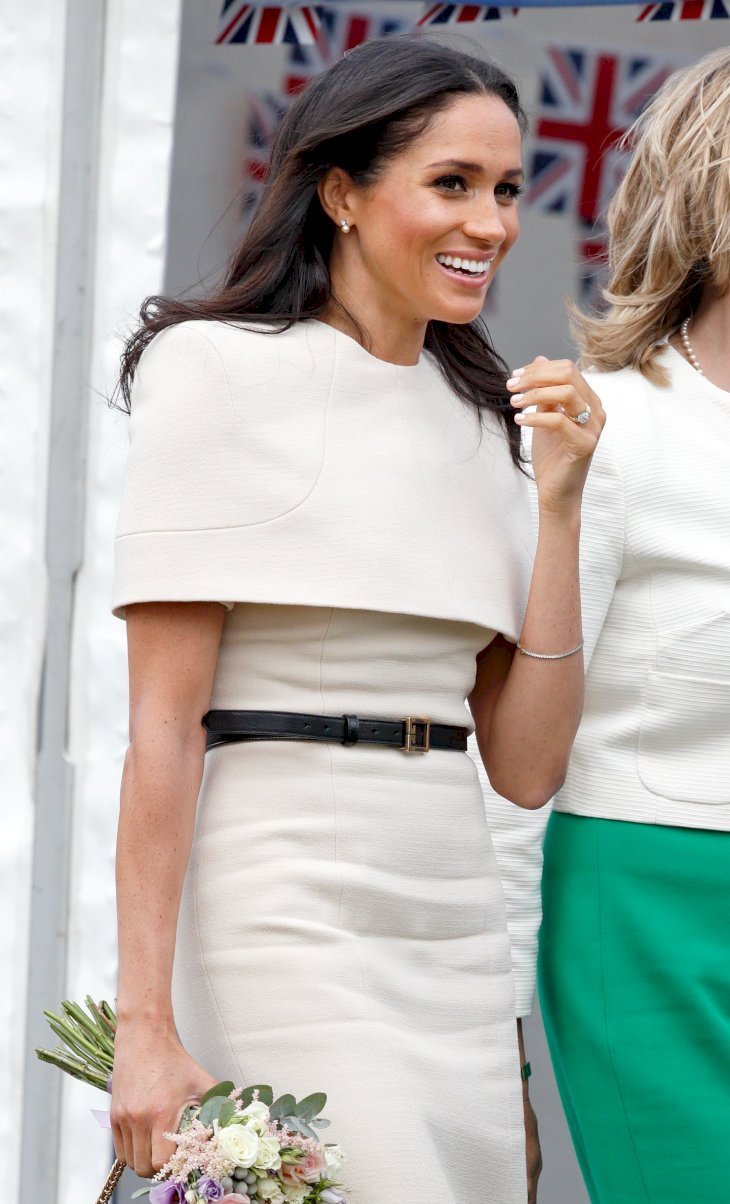 Source: GettyImages
AUGUST
Rumors started circulating as Meghan wore uncustomary loose clothing to outings and got spotted wearing a loose sleeveless blouse and floaty pleated skirt by Club Monaco while attending the wedding of Prince Harry's close friends, Charlie van Straubenzee and Daisy Jenks in Surrey.

Source:GettyImages
SEPTEMBER
If Meghan showed signs of her baby bump, it was carefully hidden by wearing billowing dresses and tummy-concealing outfits.
She also wore loose-fitting coats and was often seen with hands clasped in front of her tummy or carrying items in such a way as to hide any signs that could be showing, not wanting to give away the fact that she was pregnant before the official announcement.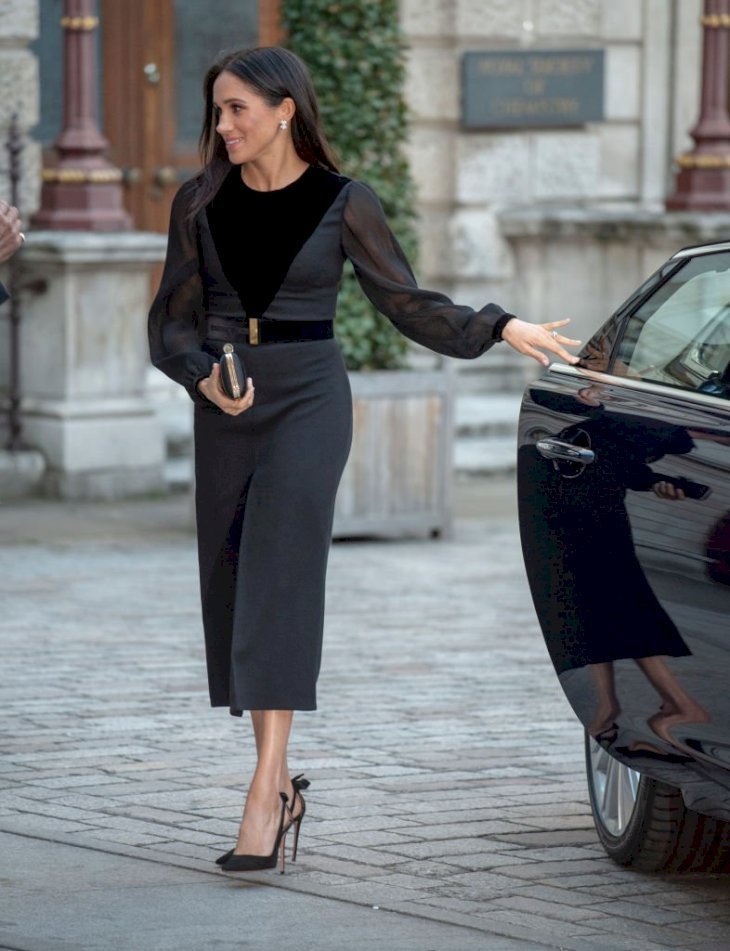 Source: GettyImages
OCTOBER
Rumors were constant as speculation grew when the small bump became visible, but could easily have been explained away by tucked in blouses. When she arrived at Princess Eugenie's wedding wearing a loose coat that Meghan never even unbuttoned it added to the speculation.
By mid-October Meghan's pregnancy got officially announced and she yet again went back to wearing her usual style of clothing, making the baby bump clearly visible. Her pregnancy showed off even more during their visit to Fraser Island.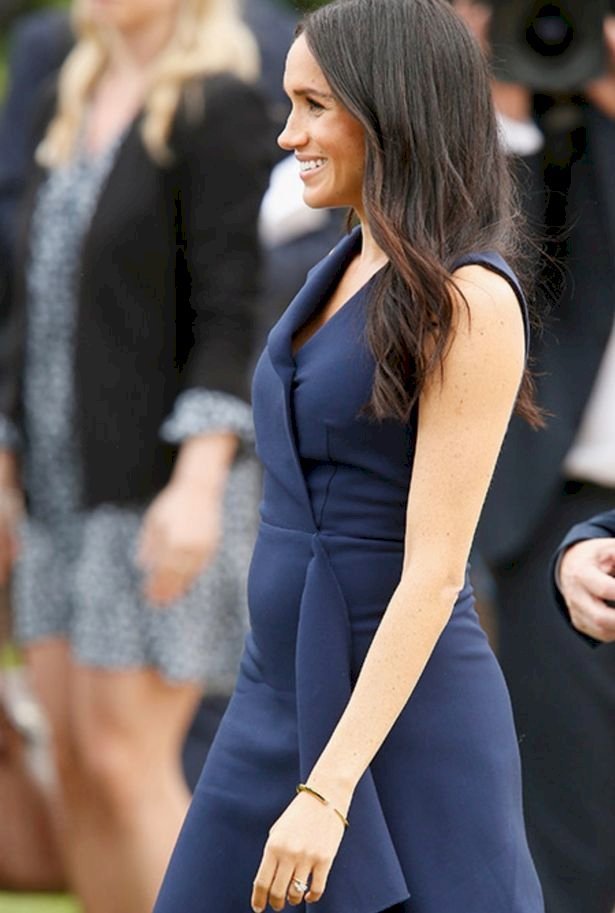 Source: GettyImages
Prince Harry and Meghan Markle paid Fraser Island in Queensland a visit yesterday and got spotted at Kingfisher Bay. Meghan opted for low key outfits as opposed to her expensive styles earlier on in their trip.
She cradled her tummy as they met with members of the public, having a tough time with the slit in her blue and white fabric dress every time she knelt down to greet the children.
She grappled with her dress constantly as it exposed her long tanned legs, mindful not to show too much she and Prince Harry went about meeting the children and other fans.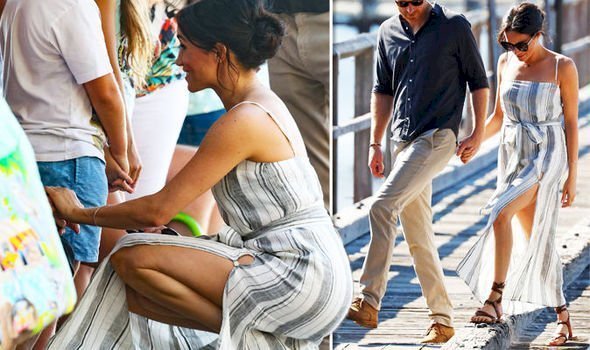 Source: GettyImages/Reuters
Many fans have missed the appearance of Meghan on television, but they will soon see her grace the small screen. ITV announced on August 30 that a new chapter in their series of specials dedicated to the Queen of England will be released soon.
Markle will join the rest of the Royal Family to honor the head of state, where she will be playing herself this time, telling the story of the Queen's relationship with the Commonwealth, the special will be called, 'Queen of the World.'
Please fill in your e-mail so we can share with you our top stories!