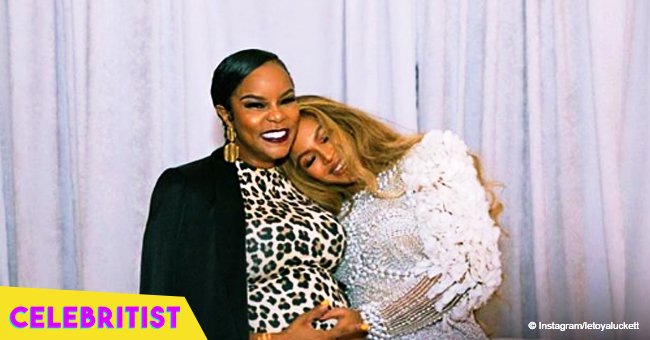 Letoya Luckett reveals what she and Beyoncé talked about during their recent reunion
Letoya Luckett opens up about her reunion with Beyonce and how they went on "mommy mode" during their moment together.
It's been reported that Letoya Luckett had a sweet reunion with her former "Destiny's Child" bandmate, Beyonce. They were together backstage after the pregnant star watched her friend's "On The Run II" concert in Texas. Photos revealed the two singers being affectionate to each other after the show. But what we didn't know until now was what they spoke about during their time together. Letoya recently revealed there was a lot of mommy talk.
Speaking to Essence following the reunion, Letoya described the moment she met up with Beyonce as "awesome." She also said the songstress had a lot of questions about her pregnancy.
"There was so much joy in that room. She was…she went into straight mommy mode as far like 'Oh my god. What's she doing? Is she doing this, is she doing that?'"
Letoya also said she showed images of her sonogram to the mother-of-three who was excited to see them and had a lot of advice to give.
"We're both very, very happy, and you could feel the love in the room. There wasn't a lot of people in the room. It felt like it was just us, chatting it up."
REUNION PHOTO
The two stars were clearly in cloud nine in their photo shared by Letoya on her Instagram. Beyonce seemed to have missed her friend as she leaned on Letoya's shoulder with her eyes closed. Her hand was on the pregnant star's baby bump while a smiling Letoya held on to it.
Letoya simply captioned the photo "Love" with a heart emoji. There were no better words to describe the moment. The photo seemed to speak for itself, much like the recent photos she shared which spoke volumes about the gender of her unborn child.
GENDER REVEAL PHOTO
The expectant mom had a photo shoot where she donned a fluffy white skirt and exposed her baby bump. She held on to several balloons that bore a color that signified the sex of her baby. The balloons were pink, a clear indication she was having a girl. She confirmed the gender reveal in one of her captions when she wrote,
"She's already become the light of my life. Mommy and Daddy can't wait to meet you baby girl!!"
Letoya will be welcoming her first child with her husband Tommicus Walker The couple wed in December 2017. The baby will be Letoya's first though she's already a stepmother to her husband's 6-year-old daughter, Madison.
Please fill in your e-mail so we can share with you our top stories!