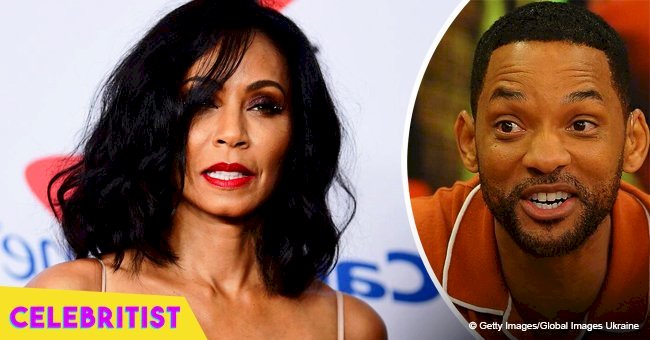 Jada Pinkett Smith claims she never wanted to marry Will and 'cried the whole way down the aisle'

Jada Pinkett Smith invited her husband, Will Smith to her Facebook show "Red Table Talk" to address different topics about their relationship. One of them was their "horrible" wedding.
During the show, Will revealed that he fell in love with Jada while he was still married to Sheree Zampino, his first wife and mother of his first son, Trey. Jada and Will met each other when she auditioned for a role on "Fresh Prince of Bel-Air."
As he described it, it was an instant feeling of chemistry. Soon later, he went to the set of "A Different World," the project Jada was working on, but instead, he met Sheree and ended up getting married to her.
NOT HAVING AN AFFAIR
Jada made sure to point out that they didn't have an affair while Will and Sheree were married. In 1995, they got divorced, so it was the perfect moment for Will to ask Jada out on a real date.
The actor revealed during the show that as soon as he walked out of the room where he signed the divorce papers, he called Jada and asked whether or not she was seeing somebody. When she said no, Will replied: "cool, you're seeing me now."
SHE DIDN'T WANT TO GET MARRIED
After that, their relationship was filled with ups and downs, especially because several rumors claimed that they had an affair while Will and Sheree were still married.
Soon later, Jada got pregnant, and her mother, Adrienne Banfield-Jones, forced her to marry Will in what they would later acknowledge as a "horrible" wedding. Apart from the fact that Jada didn't want to get married, she was sick due to her pregnancy, so it was very unpleasant.
TALKING ABOUT THE WEDDING
"My first trimester was horrible. And I was so upset that I had to have a wedding. I was so [expletive]. I went crying down the freakin' aisle getting married [sic]," revealed Jada
Adrienne, who was also in the show, accepted that she put on a lot of pressure into Jada and Will getting married. Thankfully, the couple is one of the few celebrity marriages that has stayed together for more than two decades.
SHOWING OFF THEIR STRONG BODIES
That episode of Jada's show was released a couple of weeks after her daughter Willow, Jada, and Adrienne posed together showcasing their strong and impressive abs.
Such impressive pic went viral in no time, reaching more than 1,3 million likes and several comments from people who couldn't stop praising the ladies' bodies.
Please fill in your e-mail so we can share with you our top stories!