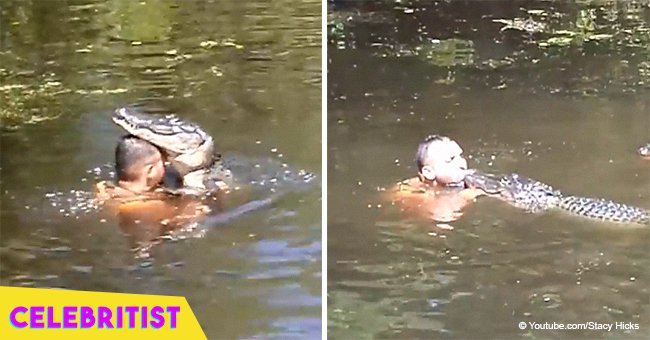 This swamp tour guide went viral after feeding alligators from his mouth (video)
Lance LaCrosse, an Airboat Adventures tour guide, was recorded feeding marshmallows to the alligators in the South Louisiana community of Jefferson Parish.
In the recording, the man appeared in the middle of the water while two medium-sized alligators were swimming toward him. He placed his hands under the animals' jaws and let that one of them took some food from him.
After that, LaCrosse dove and waited until one of the alligators placed its mouth on his head, and he went up again, gently pushing it up and backward. After repeating the same act a couple of times, he asked for a marshmallow.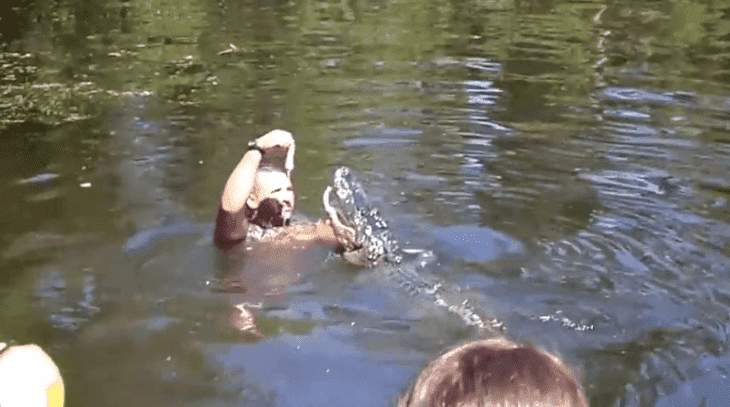 Source: YouTube/Stacy Hicks
USING HIS MOUTH
One of the people watching threw one to the water, and he picked it up and placed it in his mouth. Slowly, one of the animals approached and took it. Finally, LaCrosse told the families that the show was about to be over and made that one of the alligators waved "goodbye" at them.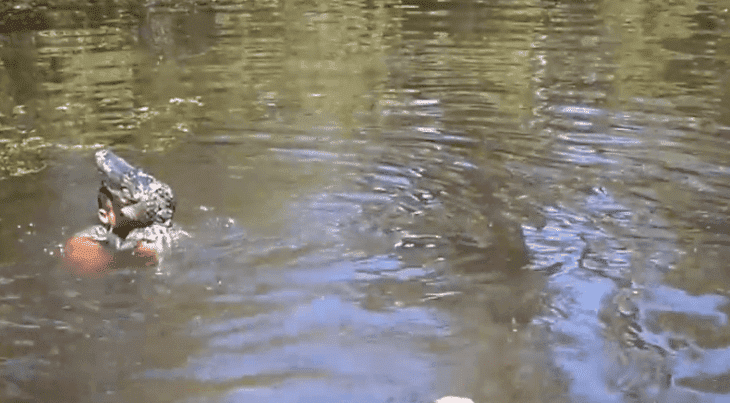 Source: YouTube/Stacy Hicks
PROHIBITING SUCH THING
As ABC reported, soon after that video went viral, the authorities ordered all swamp boat tour operators in Jefferson Parish to stop feeding alligators. Even though the Louisiana law does not prohibit luring and feeding those animals, the local law does.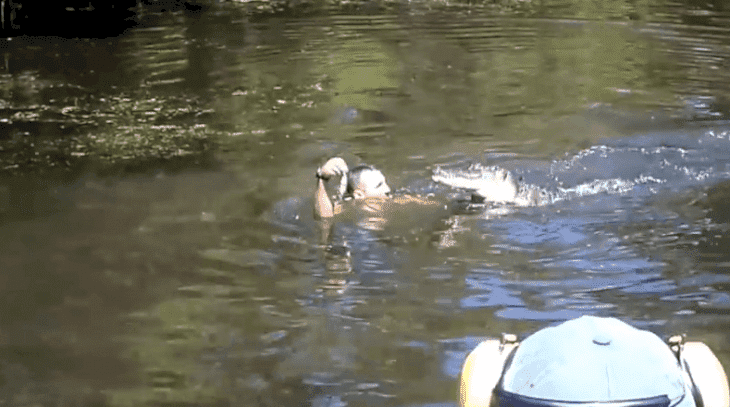 Source: YouTube/Stacy Hicks
Col. John Fortunato, a spokesman for the Parish sheriff's office, set clear that they were not aware of the situation before that video went viral. Stacy Hicks, the person who recorded the video, shared her thoughts on the act.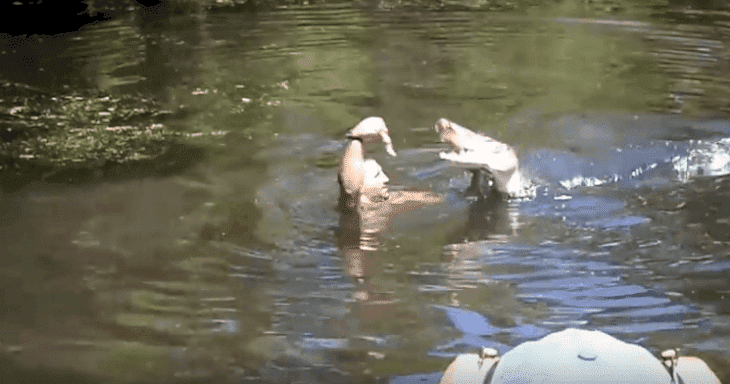 Source: YouTube/Stacy Hicks
BEING AFRAID FOR HIM
"When he jumped in I was a little scared, more for him than us though. I am surprised at the attention this video has gotten. I just thought that this was a thing that happens all the time on the tours," revealed Hicks.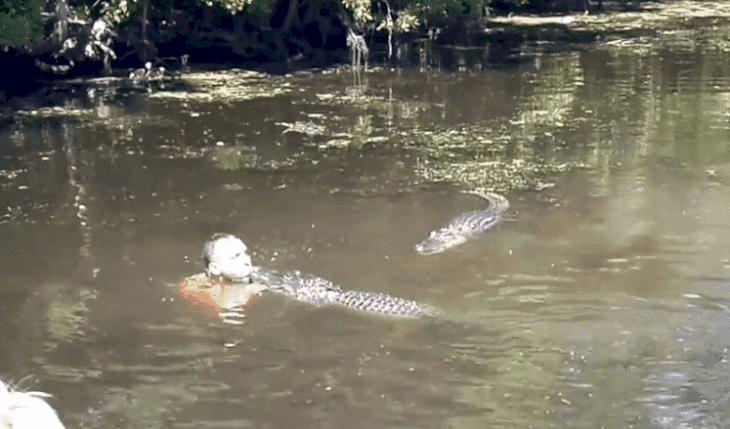 Source: YouTube/Stacy Hicks
LOSING THEIR FEAR TO HUMANS
Barataria Preserve Park Ranger Aleutia Scott pointed out that, apart from the obvious danger that LaCrosse was facing, feeding wild alligators make them less afraid of humans and turns people into a food source.
After authorities banned guides from feeding those animals, LaCrosse seemed undaunted as he said that he could still "dangle" his finger in the water to get them to come closer to him as well as swimming with them.
MESSING AROUND WITH ANOTHER ALLIGATOR
While dangerous, it is not the first time that a person plays with an alligator. The unidentified individual appeared behind the huge reptile pulling its tail out of the water.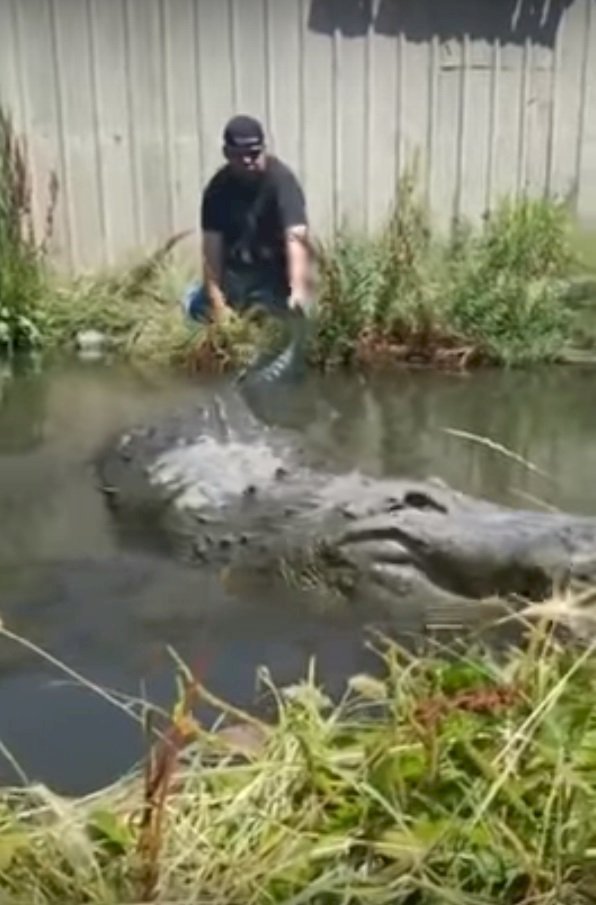 Source: YouTube/ViralHog
Little did he know that as soon as he let it go, the alligator would turn around and try to catch him. The man, clearly scared, ran off toward the other men who were recording and laughing about it.
Even though average alligators could reach 13 ft long and 790 pounds, they are very fast both in and out of the water, so messing around with them is probably not the wisest idea.
Please fill in your e-mail so we can share with you our top stories!