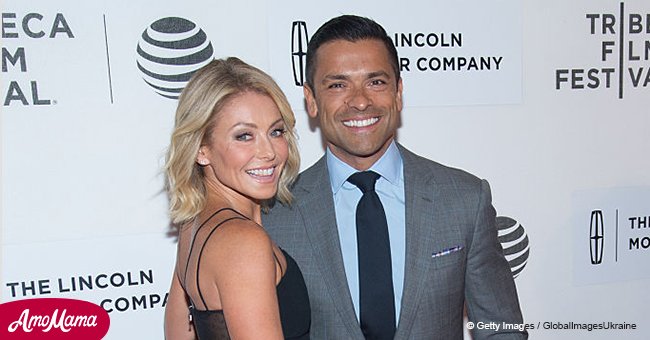 Kelly Ripa reveals why every date with her husband is like the first high school date

Kelly Ripa opened up about red-carpet date nights with husband Mark Consuelos.
Kelly Ripa's brand new Facebook Watch series will bring fans some fascinating insights and intimate tit-bits about the star and her personal life.
In the very first episode of "Heads and Faces", posted on October 22, 2018, she confides in her best friend, Rachael Harris, and tells her some sizzling details about her relationship with her dashingly handsome actor/husband, Mark Consuelos.
She shared an amusing anecdote, that Consuelos is like a high school date, and always asks her if it's OK to touch her "here" or "there."
"Like, every date he's like, 'Is this OK? Is this OK? Is this OK? Can I touch you here? Can I touch you there?'"
Kelly Ripa," Heads and Faces", posted on October 22, 2018.
CHIT CHAT COAST TO COAST BETWEEN BEST FRIENDS
During the first episode entitled "Lady Angry Beaver" Ripa and Harris chat on Facetime, one on the East Coast, the other on the West Coast.
Their conversation takes place in the bathroom as they do their make-up and no subject is too big or too small - or taboo.
CONSUELOS CALLS RIPA "A HUMAN PINATA"
Ripa explained that Consuelos always asks what he can "touch" because of he is never sure what is "hers" and what has been "glued" or "clipped" in for the evening. He jokingly refers to Ripa as "the human pinata" because there are so many pieces scattered around the room when he undresses her after a red carpet date-night,
WHAT IT TAKES TO LOOK GLAMOROUS ON A RED CARPET DATE-NIGHT
Ripa jokes about all the 'bits and pieces' that she uses to 'make herself beautiful,' from wigs, hairpieces, extensions, false eyelashes - not to mention the often complex designer creations that are a trial to take off.
CONSUELOS AND RIPA: 22 YEARS AND COUNTING
Ripa and Consuelos married in 1996 and share three children: Michael, 21, Lola, 17, and Joaquin, 15. Michael has taken his first steps in showbiz, landing a role in Consuelo's hit TV show, "Riverdale", playing a younger version of his father's character.
RIPA SHARES SWEET SECRET ABOUT HER ENGAGEMENT RING
Ripa has opened up about the story behind the engagement ring Consuelos gave her.
Ripa explained that 22 years ago, she and Consuelos had not followed the traditional route to marriage of a lengthy engagement and an elaborate family wedding.
Instead, the two young actors who had met on the set of "All My Children" had simply eloped, so Ripa never had an engagement ring. Then, 10 years ago Consuelos finally gave her a stunning engagement ring.
"We never had an engagement, we just eloped- It must have been making him feel a certain way that I didn't have a ring so for our 10th anniversary we bought me a ring! I'm sure my kids will drag it from my dead body but I will never part with it because it's so special."
The ring has a simple design and consists of a gold band and a large rose-cut solitaire diamond. Ripa's wedding band is a simple gold band with diamonds inset all around.
Please fill in your e-mail so we can share with you our top stories!