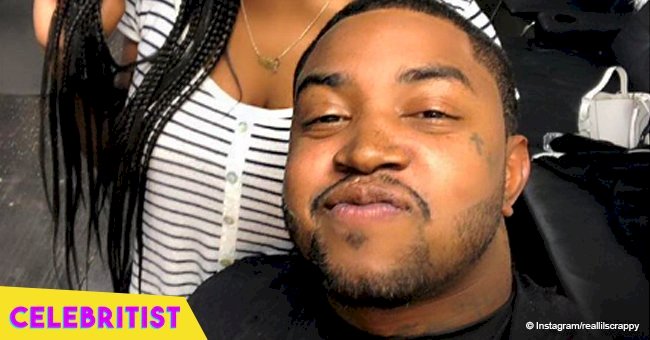 Lil' Scrappy shares adorable picture with his baby son to celebrate 1-month milestone

Lil Scrappy's son is one-month old, and the reality star couldn't help gushing in a recent Instagram post. See the heart-melting image below.
The father-son duo cut a cute figure in their matching gray sweatshirts and Scrappy held on to Breland's hand.
Opening up in the caption, the "Love & Hip Hop Atlanta" star wrote:
"My lil man one month old and kicking love him like he's been here forever, he's another blessing from God and I will treat him as such"
Scrappy's fans showed up in the comments section to leave heartwarming messages and join him in celebrating his son's milestone.
"You look so happy, congratulations and enjoy your lil man"- @tiresha_b
"GOD is AWESOME he is so Beautiful and Handsome many blessings to you and your family"- @iamblessed_t47
"He is so handsome. Enjoy ur son. Love him and your new found love of happiness and joy. I am asking God to bless your son and protect him from all harm and danger as he grows up in this World."- @debdiee541961
It seemed like only yesterday when Scrappy and his wife, fellow "Love & Hip Hop" star Bambi Benson, welcomed their son. Breland made his world debut on September 21, and his rapper dad informed fans with a picture that he weighed eight pounds and three ounces.
"Thanks to the big God and my wife and family the young Prince #Breland is here," Scrappy wrote alongside the photo. "I'm so happy and blessed from this experience, thanks to my wife @adizthebam for pushing thru like a champ only 3 pushes."
First-time mom, Bambi, also took to Instagram to thank everyone for their prayers, and confessed it "still feels like I'm dreaming." Scrappy has an older daughter, 13-year-old Emani Richardson, from his previous relationship with Erica Dixon.
Scrappy, whose real name is Darryl Richardson, and his wife have been sharing cute snapshots of Breland with fans since his birth. In one post, Scrappy captured Emani lovingly cuddling her baby brother. Overjoyed, the 34-year-old dad gushed:
"Man I'm blessed I got both of my babies ya dig and my big baby my wife I'm getting all the blessings from the big God."
It seems there's a lot of love and blessings to go round in the Richardson clan. Here's wishing them more years of those, and a happy one month to baby Breland.
Please fill in your e-mail so we can share with you our top stories!