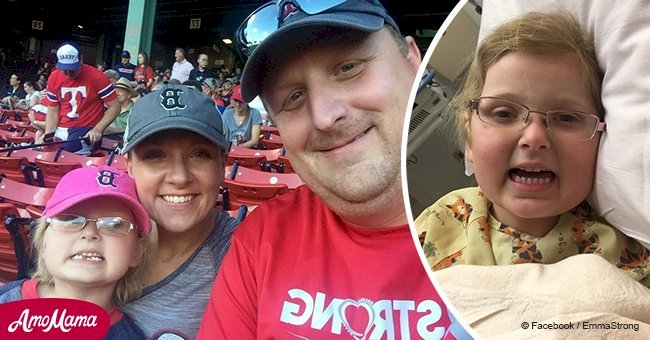 Father shares tearful message to stranger who yells at him for carrying sick daughter
A disheartened father shared his inspiring response to a stranger, who criticized him and his daughter while they were walking down the street.
Brent Gehring responded to a bad judgment call from a complete stranger in one of the coolest and most composed ways and inspired many others to love each other rather than be critical.
Gehring took to Facebook to share an incident with his friends and followers, revealing how his response got two adult men breaking down into tears.
He is a proud father of a 6-year-old girl, Emma, who has been battling cancer for the most of her life. She is preparing herself for her seventh round of chemotherapy for a brain tumor.
Follow us on Twitter to learn more.
One particular night, the father-daughter duo were returning home after a special dinner at Boston's Union Oyster House, and Gehring was carrying Emma across the street as the little girl cannot walk without the help of a walker
Unaware of this fact, a complete stranger berated Gehring for doing so, saying, "Make her walk. That's what is wrong with kids today."
Gehring was enraged by the stranger's reaction but he decided to use his time and energy toward a different purpose.
He explained in his Facebook post that had then two choices. He could either fire back at the man with anger, or he could encourage him to be more respectful toward his daughter and to become a better man.
Gehring composed himself and decided to teach the man the importance of love. "My daughter has been carrying my faith and my strength for the past 5 years since she was diagnosed with a brain tumor," he told the man, as per his Facebook post.
He then explained to him that he was happy to carry his daughter because of all the "amazing things" that she has taught him over the course of her life.
He asked the stranger to treat his daughter with nothing but respect. "So I would advise you not [to] address my daughter in any way other than respectful."
"I won't tell you the rest of the story but it ended with two grown men with tears rolling down their faces," Gehring's Facebook page suggested.
Bren added that his story is important for the world to know because he wants it to serve as a reminder that we often don't know a person's whole story and so it is not good to judge others immediately.
His post with a beautiful message concluded with yet another touching statement in tribute to his sick daughter. Gehring wrote that his daughter has made every day of his life a "blessing," and he praises God for bringing her into his life.
According to Western Journal, Gehring also opened up about the "earth-shattering" experience when he came to know of Emma's diagnosis.
He explained how parents "take for granted" that their children will always be healthy and to know that they are not is a difficult thing to accept.
He also stated how his daughter has brought "love, strength, and compassion" to their family and considers her to be a true gift for the family.
Please fill in your e-mail so we can share with you our top stories!