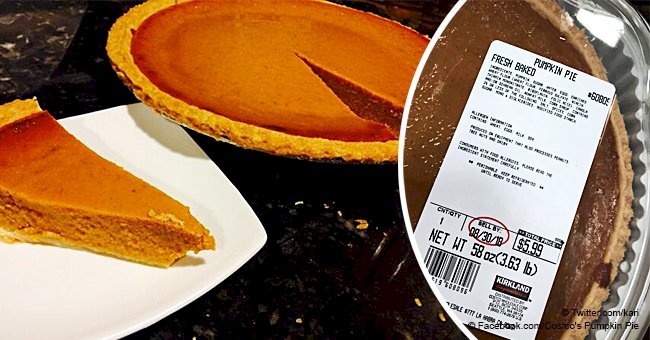 Costco's $5.99 pumpkin pie is a foot in diameter, and here are 15 delicious facts about it
With Thanksgiving around the corner, it marks the beginning of Costco's delicious pumpkin pie season and customers make sure to not miss out on getting some.
Their pies are huge, and cheap but also very tasty, so no wonder they fly off the shelves. One can feed an entire family and it saves time in making one yourself from scratch. But there are quite a few interesting things about their pies, and it also explains why they are so tasty.
They are deliciously massive
Being a full foot in diameter and weighing over 3.5 pounds, they are sure to feed quite a few hungry mouths.
The pies are cheap
At only $5.99 each, you would be hard pressed to make one yourself at that price, especially at that size.
Their pumpkins are grown in Illinois
The climate and nutrient-rich soil make it ideal pumpkin growing territory, with up to 95 percent of all pumpkins processed in the USA are grown in Illinois.
Read more on our Twitter account @amomama_usa.
Only the Dickenson pumpkins are used
This variety of pumpkin would be the same used by well-known pumpkin puree brand Libby's, and it's actually not a pumpkin at all. They are more related to squash with less watery flesh which makes for ideal filling of their tasty pies.
Not even the seeds are wasted
All the seeds are removed from each and every pumpkin and sold to a company that manufactures bird food.
They cook the pumpkins twice
They are cooked when still in chunks before being pureed, and then for the second time once they have been canned, which takes an additional five and a half hours. They are then cooled, labeled and shipped to different Costco warehouses.
3 Pumpkins go into each can of puree
Each gallon can of their pumpkin puree contain up to 3 whole pumpkins, after being skinned, de-seeded, cooked and pureed.
The weight of each uncooked pie is 3.8 pounds
The pie shells are filled by hand after the pre-weighed filling goes in to ensure each is filled with the exact same amount. An experienced filler is said to be able to fill up to 48 pie shells in seven minutes.
They make their own dough
Pie dough is shaped into balls before they are pressed by a special machine to form the shells which are then filled and baked.
Their bakery has made the pies for over 30 years
Customers have been supplied with their signature pumpkins pies since 1987, and have only gained popularity over the years.
They use a family recipe
The recipe comes straight from the collection of the vice president of the Costco's bakery operations, Sue McConnaha.
Pre-mixed bags of dry ingredients are used
All spices, sugar and other dry ingredients are pre-mixed and bagged when the time comes to make the filling the dry pre-mix is added to eggs, pumpkin puree and water in large stand mixers before the filling is ready to be poured into each shell.
They contain no preservatives
The pies are best kept in the refrigerator and can even be frozen for later use.
It's not just a seasonal affair
While buying the pies are seasonal, making sure they are tasty when you do is not. As soon as pumpkin pie season is over the employees being projections for the upcoming year, making sure farmers know how many pumpkins to plant.
Costco sells a huge quantity of pies
Over 5 million pies are sold annually, with over 2 million sometimes sold in the days leading up to Thanksgiving.
Good quality pies at a great cost that definitely goes the distance, literally. And when you have had your fill of the enormous pumpkin pie, you can turn your attention to some of Costco's enormous cheesecakes for dessert.
They will now be selling a five-pound pumpkin spice cheesecake as well. Promising to be as delicious as their pies, it's bound to pack a punch pound for pound with tastiness.
Sometimes you can get so much more than what you bargained for as customers at a Costco found out when a Costco salesman sat down at a piano wanting to demonstrate its beautiful sound. He chose the song 'Someone Like You' by Adele.
He was soon joined by a customer, who sat down at the piano next to his, and even though the young Asian woman looked around a bit nervous at first, she soon settled and joined him in duet.
It did not take long for customers to gather around them in awe. The video went viral with over 10 million views to date.
Please fill in your e-mail so we can share with you our top stories!