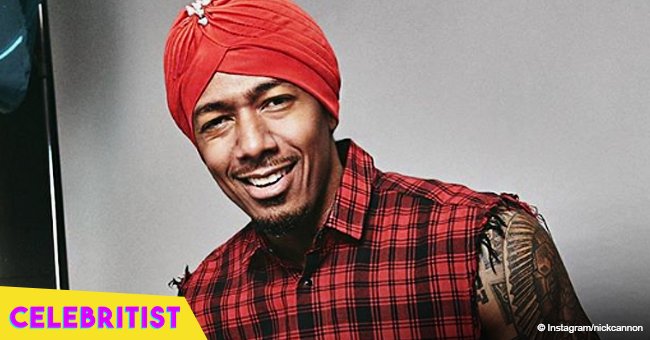 Nick Cannon gushes over 18-month-old son as the toddler rides his own scooter in adorable video

Actor and comedian Nick Cannon, best known for hosting "America's Got Talent," took to Instagram to share a video of his 18-month-old son, Golden, riding a scooter.
In the short clip, the boy appeared wearing blue jeans and an oversized green hoodie in what seemed to be his father's living room. He was on a little blue scooter when Nick told him, "let me see you riding. Go! Go for it!"
Golden started riding just like a pro, but as soon as he got deeper into the dark room, he stopped and said, "dark." Nick turned the lights on and told Golden to ride again. The boy repeated, "Riding," and pleased his father one more time.
PEOPLE'S REACTION
For the caption, the actor wrote, "Maybe Daddy is being bias but I have never seen a 1 and half year old do this!! We Ridin Out!!! [sic]." As soon as Nick uploaded that video, his followers took to the comment section to share their thoughts.
Most of them praised the actor for the relationship he has with his son. Others pointed out that Golden was growing up very quickly and that he looked both adorable and talented on his little scooter.
THE BOY'S DETAILS AND FIRST BIRTHDAY
Golden "Sagon" Cannon was born on February 21, 2017. His mother is Brittany Bell, an American beauty pageant winner. He is Nick's third children and brother to twins Moroccan and Monroe, whom the actor shares with ex-partner Mariah Carey.
For the boy's first birthday, Nick threw a Golden Safari-themed party. For the African-inspired celebration, Golden wore a gold crown as the king of the day. People reported that there were different activities, like live drum music, painting, and dancing, as well as several gold balloons.
TWO SPECIAL GUESTS
Two of the most special guests in attendance to the party were Moroccan and Monroe, who had a blast just as the rest of the people invited. In an interview that Nick had with People, he revealed that he didn't like the term "co-parenting."
CO-PARENTING
"It's funny when they say 'co-parenting' — that phrase is a little redundant. You can't co-parent, you have to parent, and that's what we do well because when it comes to our children, we're selfless individuals — they're first," said Nick earlier this year.
It is not the first time that Golden appears on his father's social media. As any proud parent would do, Nick has uploaded several images of his son on Instagram One of the most recent ones portrayed the actor wearing a red ensemble next to the boy, who stole the show.
Golden was wearing a sleeves shirt with a bandana wrapped around his forehead and his hair styled in braids. The Cannons had serious looks on their faces, which explained the caption, "The Golden Gangster!!!"
Please fill in your e-mail so we can share with you our top stories!