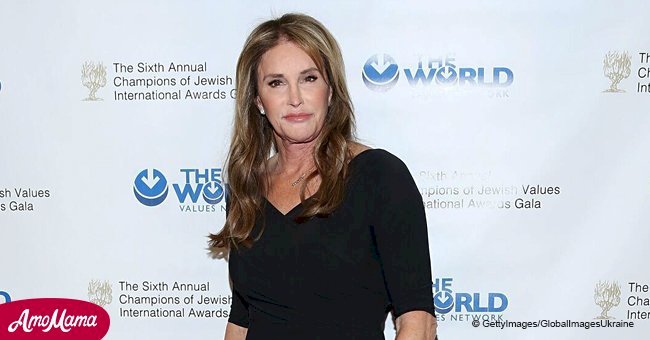 Retailer removes Caitlyn Jenner-inspired costume from store for being 'completely tasteless'
A Jenner-inspired outfit was removed from eBay and some Amazon vendor's e-stores this week after the trans community spoke out.
The costume includes a brown wig, a gold medal, and an outfit similar to the one Jenner wore in 1976 at the Olympics.
Read more on our Twitter account, @amomama_usa. The outfit can be viewed below.
After two LGBT organizations spoke out about the costume, it was removed from all online stores, apart from one Amazon vendor called Rad Kell.
Jane Hamlin from the Beaumont Society said she was astonished that such an outfit would be listed, adding, "It's completely tasteless."
She added society has "become accustomed to insensitive mockery," but had hope that cisgender people would have been "tired of such stunts" by now.
Stonewall, another LGBT rights group, also called for the outfit to be pulled from circulation and said:
"This is a reminder of how much is left to do to combat the abuse trans people face every day. This costume reduces a marginalized group to the butt of a joke. It should be taken off the shelves."
The costume, called "Bruce Caitlyn Jenner Olympian I Am Cait Adult Costume," retailed for $44.95.
The 68-year-old transgender activist and retired decathlete, Caitlyn Jenner, came out as transgender in 2015.
Jenner's name change and gender transformation were complete later that year, but she described the following year as a lonely period.
The retired Olympian added that she made it through that first tumultuous year and she was happier than she had ever been in her life, simply because she is true to herself and her identity.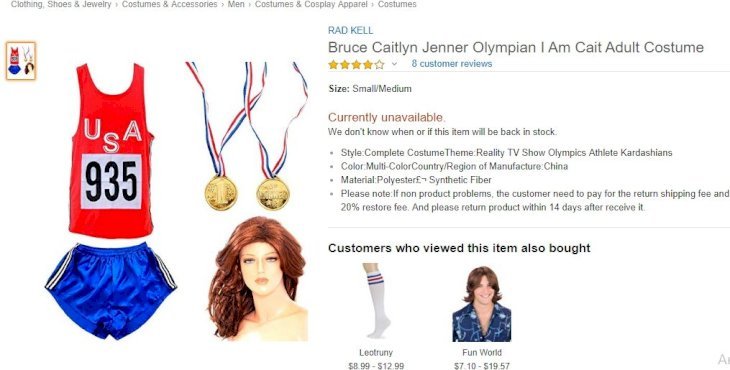 Source: Amazon
In the months that followed, TV talk shows discussed the intimate details of her transformation in great detail, unknowingly highlighting the type of misunderstanding that still plagues society.
These types of discussion, when left unchecked, only deepens the incorrect notion that sexuality and gender are the same things.
Prying conversations could also lead to the objectification of transgender people, even when the curiosity seems innocent.
While transgender people are battling governments for recognition and acceptance, the public – and President Trump – is perpetuating the idea that 'gender is nothing more than genitals.'
Please fill in your e-mail so we can share with you our top stories!