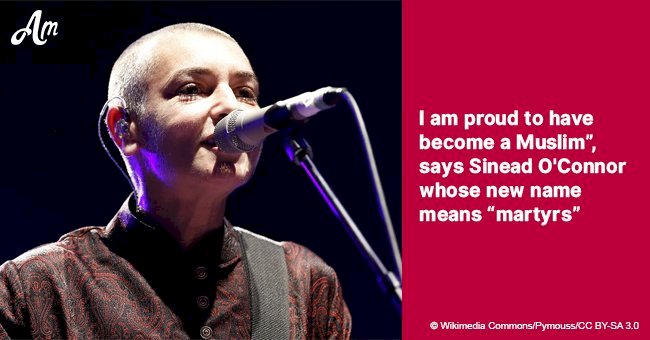 'Nothing Compares to You' singer becomes Muslim
The world had known the renowned singer, synonymous with the song 'Nothing Compares To You,' as Sinead O'Connor. She has now changed her name and views on the world and religion proudly sharing her conversion.
In 1992 she boldly ripped up a photo of Pope John Paul II on 'Saturday Night Live' during a performance and urged viewers to 'Fight the real enemy', however, she became an ordained priest of the Catholic Latin Tridentine Church in 1999.
During the course of her life, she has sought spiritual guidance, and have struggled with mental illness throughout most of it, reaching a low point in 2017 when the 51-year-old singer posted a video from a motel in New Jersey saying that her psychiatrist was keeping her alive.
Now her life has taken another turn, she announced on Twitter that she has converted to Islam. She also changed her name to Shuhada Davitt. On October 19 she tweeted:
"This is to announce that I am proud to have become a Muslim. This is the natural conclusion of any intelligent theologian's journey. All scripture study leads to Islam. Which makes all other scriptures redundant."
Since announcing her conversion she has documented her new faith stating how incredibly happy she is after receiving her first hijab and said:
"All my Muslim brothers and sisters who have been so kind as to welcome me to Ummah."
Ummah refers to the Islamic community. She also posted a YouTube video of her making the Islamic call to prayer.
Davitt has been more open about her mental illness in recent years. A post in November 2015 read:
"My entire life is revolving around not dying, and that's not living."
In May 2016 she posted that she had 'taken an overdose' and a police search got launched in fear of her wellbeing. Later on, in August 2017 she posted a video on Facebook during which she said:
"I am one of millions ... people who suffer from mental illness are the most vulnerable people on earth, we can't take care of ourselves, you've got to take care of us,"
She has not given up on her music and is said to release her new album late in 2019.
In recent years people have become more open about sharing their various religious beliefs, a celebrity of another kind, Roseanne Barr recently did the same, although she has always been Jewish, she was not outspoken about it.
However, she had recently created her own online show which is focussed on exploring and promoting the Jewish faith, removing herself from the otherwise tumultuous happenings surrounding her life of late.
She is also considering a permanent move to Israel in order for her to immerse herself in her faith.
Both woman showing a dedication to their beliefs, and even though they may be very different people with different beliefs, they are not shy to admit that journeys, as criticized as they may have been, have led them to where and who they are now.
Please fill in your e-mail so we can share with you our top stories!