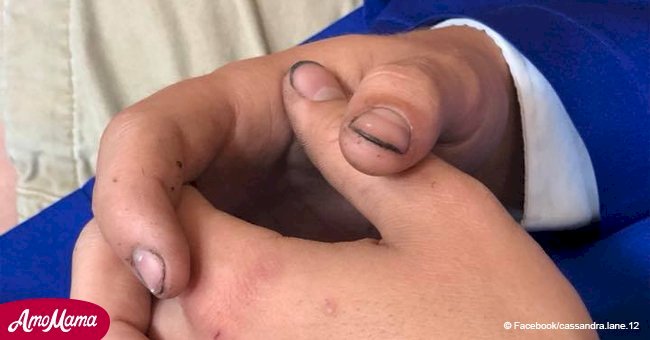 Mom waits with son to get yearbook pictures taken and tears up when she sees his 'working hands'
Cassandra Lane was brought to tears when she noticed the dirt under her son's fingernails, knowing it came from hard work he did to help the family make financial ends meet.
Cassandra recently took her son Zeke for his high school senior photo session and noticed her son's hands showing how hard he had been working to help them keep afloat financially. Zeke is one of five children and he had made some sacrifices to help the family out.
Read more on our Twitter account @amomama_usa.
Afterward, she wrote on the 'Love What Matters' Facebook page:
"As we sat in line, I notice kids in letterman jackets with their class rings. And I notice Zeke's stained hands. I began to tear up. Have I given him everything a parent should give to their child as he has grown up? He works out in the heat, 30-40 hours a week during the summer. He didn't want a class ring or a letterman jacket. He didn't get a new car. The mommy comparison game tells me I didn't show him how much I love him with things. I left there feeling bad about myself and how we have raised our son."
When she looked at his hands it had reminded her of her own father's work-stained hands also resembling that of her husband during their early years of marriage. Cassandra continued:
"I've been reflecting the last few days and crying a lot, honestly. I apologized to Zeke and he laughed at me. He said, 'Why are you sorry? Because you've taught me to work hard for things I want? Because I know the value of a dollar? Because I'm not going to think that I deserve to have everything I want?'"
At the end of her inspirational post she also said how proud she is of her son Zeke, not ready for him to be grown up just yet, however, his actions show that is he well on his way.
Yearbook pictures prompt all sorts of reactions, with some wanting to look their best, making sure every hair is in its place and showing off their best, others dread the yearly occurrence while others are just happy having the moment to remind them of times gone by later on in life.
The eight-year-old son of Ange Pickett, from Adelaide in South Australia, was eager to get his photo taken with the rest of his classmates. Smiling broadly with his gap-toothed grin, however when they received the picture later on mum noticed something odd.
The photographers had photoshopped out his youthful gap and replaced it with what appeared to be the previous year's baby teeth. She felt bewildered by their unprompted pro-active photoshopping.
Pickett said that she was not angry but just totally baffled and decided to contact the company not understanding their actions. Her son was not embarrassed by the gaps in his wonky teeth, but rather excited because for him a lost tooth equaled a gold coin.
Not long after contacting the company she received an apologetic message from them agreeing that they were wrong and should have asked her first before taking any action.
They have been criticized in the past for not correcting messy hair, bruises, stains and the like and therefore decided to be pro-active. They promptly replaced the photoshopped version with the original.
A recent photo taken by a young couple creeped out people all over the internet when they photoshopped their happy snapshot in a metaphorically play on the girlfriend being a Gemini, according to her astrological star sign.
It shows the couple looking at the camera while hugging, with a mirror in the background, however, that reflected in the mirror is what caused the chaos.
When looking at their reflection the girl's face is seen looking in both directions, while the back of the boyfriends head is seen in the reflection, which would be normal and expected.
The boyfriend captioned the picture he posted on Twitter:
"I love my girlfriend even if she is Gemini."
The couple has not confirmed that the photo got photoshopped leaving viewers to come to their own conclusions.
Please fill in your e-mail so we can share with you our top stories!