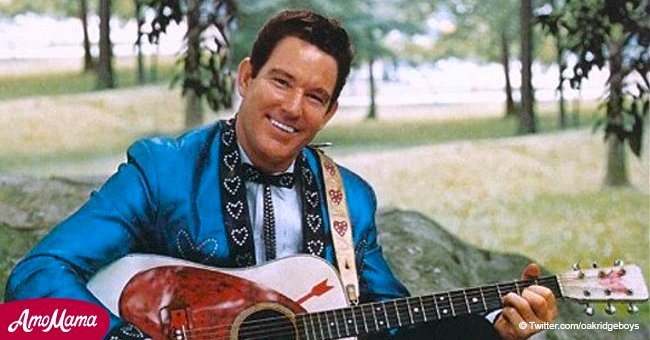 Classic country star Freddie Hart dies at 91
World War II veteran, classic country singing star, and Grammy awards winner, Freddie Hart died in Burbank on Saturday at 91.
Much-loved musician Freddie Hart fell ill earlier this month and finally succumbed to pneumonia on October 27, 2018.
The Alabama native had begun recording a gospel LP "God Bless You" earlier this year before falling ill. His Christmas single "This Time of Year" is expected to be released next month and the album will come out in 2019.
Read more on our Twitter account @amomama_usa.
Freddie Hart was actually born Frederick Segrest to a sharecropper family of fifteen in Lochapoka, Alabama. He learned to play guitar at age five and ran away from home at seven.
At twelve years old he was sent to a Civilian Conservation Corps camp, joining the Marine Corps at fifteen. He served in Iwo Jima, Okinawa and Guam during World War II.
After his discharge, he lived in California and taught martial arts and self-defense classes at the Los Angeles Police Department.
He reportedly also worked as a laborer in Texas and New York before embarking on a music career that would span almost seven decades and cross many genres.
He was already in his mid-forties when "Easy Loving" made him a star. The song was so popular, it won the best song at the CMA awards two years in a row.
Hart went on to win a total of six CMA nominations, six ACM awards and a Grammy for best country male vocal in his lifetime.
He was much later inducted into the Nashville Songwriters Hall of Fame as well as the Alabama Music Hall of Fame. Liner notes for one of the reissues of Hart's material reads:
"Freddie had one of the longest and most arduous climbs to the top of any country music star in history, having begun his recording career almost twenty years earlier. Dozens of fine and deserving hillbilly, rockabilly and stone country singles and albums were issued before Freddie would have a major hit."
Country fans will remember us reporting a different loss this year when another Grammy award winner passed away. Crooner Kenny O'Dell was 73 when he died in March 2018.
The Nashville Hall of Famer died of natural causes in Cool Springs. He was best known for "Behind Closed Doors," a track considered to be one of the most played songs in country music.
Freddie Hart is survived by his dear wife Ginger who stood by him for 61 years and his four sons Freddie Jr., Andy, Joe, and Victor. Funeral arrangements have not yet been released.
Please fill in your e-mail so we can share with you our top stories!