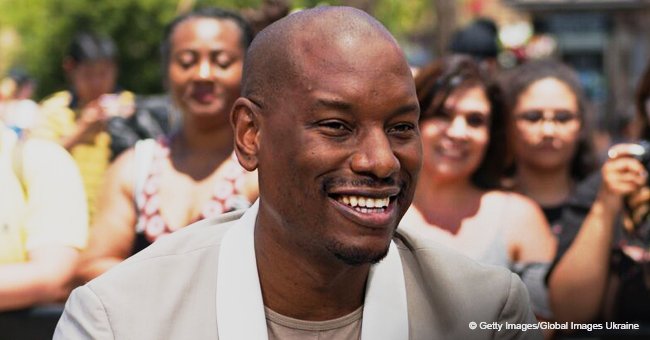 Tyrese steals hearts with adorable video of newborn daughter in light purple onesie

Tyrese Gibson, best known as Roman Pearce in the "Fast and the Furious" franchise, took to Instagram to share a video of his daughter, Soraya, in a beautiful light purple onesie.
The short clip portrayed the baby laying on her crib while her mother, Samantha Lee, was playing and asking her some questions. One of the most striking aspects of the video was how attentive and focused Soraya looked.
For the caption, the actor wrote, "She comes alive in the nighttime!" suggesting that the recording took place while the baby's parents were already sleeping. As soon as Tyrese uploaded that clip, his followers took to the comment section to share their thoughts.
REACTING TO IT
Most of them pointed out that she was beautiful and charming, and seemed surprised about the fact that an almost-one-month-old girl could be so alert. Others added that Soraya looked exactly like her famous father.
SHARING THE FIRST PHOTOS OF SORAYA
As People reported, Tyrese and Samantha waited only 16 days after their baby was born to share the first photos of her on social media. He revealed that they decided to share their "answered prayer" after embracing her "love and joy" for two weeks.
Even though Soraya had appeared on social media before that day, she was not portrayed in detail. The post was a compilation of images from a professional photo shoot done by photographer Jessica Limon.
MELTING HEARTS
Soraya appeared in many different poses, wrapped in blankets, wearing headbands, and resting in the middle of a flower crown. People couldn't stop gushing about her in the comment section.
PRAISING SAMANTHA
In another post that Tyrese shared, he revealed that his wife was a "real champion" as she endured a 30-hour labor. He pointed out that he witnessed the strength of a woman.
DIGGING INTO THEIR RELATIONSHIP
Tyrese and Samantha tied the knot during an intimate ceremony that took place on Valentine's Day 2017. It was so private that Tyrese only shared photos of it some days after the ceremony took place, but they are no longer available on his Instagram account.
E! reported that their marriage surprised everyone as the couple was first photographed together in public in December 2016 at a charity event in Atlanta. Two months later, they were walking down the aisle.
Please fill in your e-mail so we can share with you our top stories!