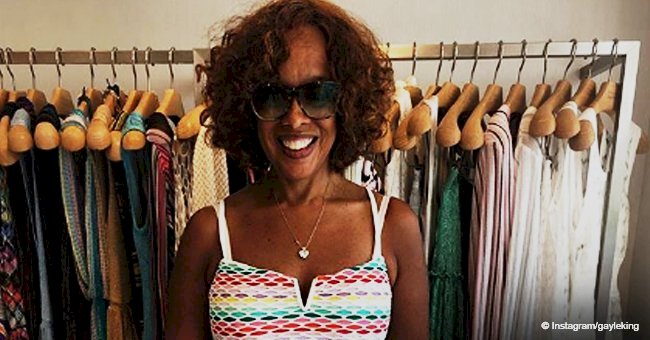 Gayle King enjoys day off at the races with her tall adult son in recent photos
Gayle King took a day off and went on a trip with her son, William. The Instagram posts below showed them spending their time at the F1 Mexican Grand Prix this weekend.
The gorgeous editor of O and The Oprah Magazine usually has packed days and busy schedules. She is no stranger to appearing in headlines with her best friend, Oprah.
Her daughter, Kirby Bumpus, works in government and is no stranger to making headlines. Even King's ex-husband has caused controversy and appeared in the media after cheating on her.
Her son, William Bumpus opts to live a low profile life. He rarely appears at fancy occasions with his mum.
KING'S RELATIONSHIP WITH HER CHILDREN
Regardless of the drama and her hectic schedule, King always makes time for her family. She is extremely close to both her children and they often feature on her Instagram page
This weekend, she took a day off from her busy life to spend a relaxed day at the race track with her son. They attended the F1 Mexican Grand Prix on Sunday.
She posted the stunning images with William to the delight of her 497 thousand followers. She says they were there to support the championship-winning Lewis Hamilton.
Many fans were elated to get a glimpse of the mom and son out together and flooded her comment section.
"Gayle you look happy and stunningly gorgeous rockin that denim. Happy for ya!" ~ @pollyotoole
"Awesome picture ♥️" ~@maugeri6
OTHER TRIPS TOGETHER
This trip was not the first time King has travelled with her kids. She visited Mexico with them in September as well.
They did some shopping, snorkeling and soaked up some sun while horse riding. They even visited the Mayan ruins in Tulum together.
HER FRIENDSHIP WITH OPRAH
Gayle King and Oprah Winfrey have a friendship that has stood the test of time. They have supported each other through many of life's trials and tribulations.
Oprah gifted King, a live-in nanny when she had her second child. King made Oprah the god-mother of her children.
They have seen each other through controversies such as King's divorce from her husband after his sordid affair with another woman. The best friends have survived rumors, spats, and scandals over the last twenty years.
Besides standing with each other through difficulties, the ladies celebrate each other's successes together. They're so close many people have speculated that perhaps they are gay, but both parties adamantly deny it.
They've traveled to many places together including the city they both love, Paris. On their latest trip to Paris, King posted a stunning image of the two of them with her daughter ready to go to a party.
At the end of the day, both women agree that they don't care about any drama or rumors. They just want the best for each other.
Please fill in your e-mail so we can share with you our top stories!