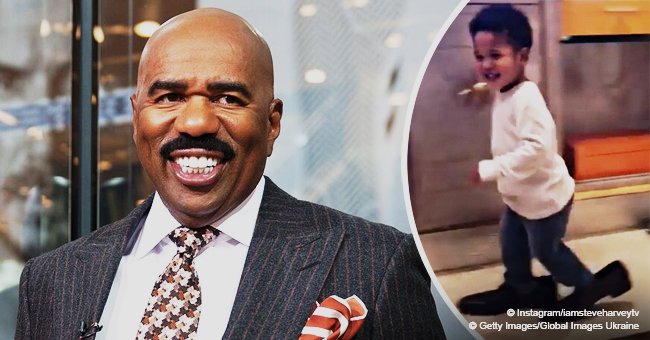 Steve Harvey shares hilarious video of his grandson stomping around in his famous grandpa's shoes

TV host and comedian Steve Harvey, best known as one of the "Original Kings of Comedy," took to Instagram to share a short video of his grandson playing around with his shoes.
In the clip, the toddler appeared wearing blue jeans and a long-sleeved white shirt in what seemed to be a living room. He put on Steve's casual black shoes and was stomping around making a lot of noise.
Apart from that, he kept saying, "Papa" while Steve asked, "Why? Why? Why?" several times. At some point, BJ lost one of them, and the famous host said, "Whose shoes are those?"
A CONFIDENT BOY
Very sure about his response, BJ said, "Mine." "Them ain't your shoes," Steve responded. "Them my shoes." In the caption, Steve wrote that his grandson wouldn't walk on the rug as it was not noisy enough.
PEOPLE'S RESPONSE
As soon as he uploaded that short clip, his followers took to the comment section to share their thoughts. Most of them pointed out that it was very funny, while others said that BJ's way to attract his grandfather's attention was adorable.
STEVE'S GRANDCHILDREN
BJ is not Steve's only grandchild. In fact, the Harvey family recently welcomed their fifth one to the world. In a photo that the host uploaded in early-September, baby Ezra was posing wrapped in a white, blue, and pink blanket.
"5th grandchild 3rd boy he's the tie breaker lil EZRA is here..... so happy another HARVEY Boy [sic]," wrote Steve who was clearly proud of how large his family is getting.
THEIR UNCANNY RESEMBLANCE
The first thing that his followers did was to remark the resemblance that Steve and Ezra share. One of the most similar aspects they found were their lips. Others said that if Ezra got a mustache, he would be a Steve Harvey's mini-me.
STEVE'S "SICKLY" LOOK
Recently, Steve and his wife, Marjorie, attended the World Series in Los Angeles, California, to watch a game between the Boston Red Soxs and Los Angeles Dodgers. One at the stadium, he ran into the NBA star Magic Johnson, so they posed together for a photo.
That encounter made headlines; not only because two influential black men got together, but because of Steve's "sickly" look. Several people took to the comment section to wonder whether the host was hiding "his illness" or something similar.
Others pointed out that his salt-and-pepper beard might be the reason why he looked that way. At the moment, nothing negative has been said about his health, which means that it might be nothing but a rumor.
Please fill in your e-mail so we can share with you our top stories!