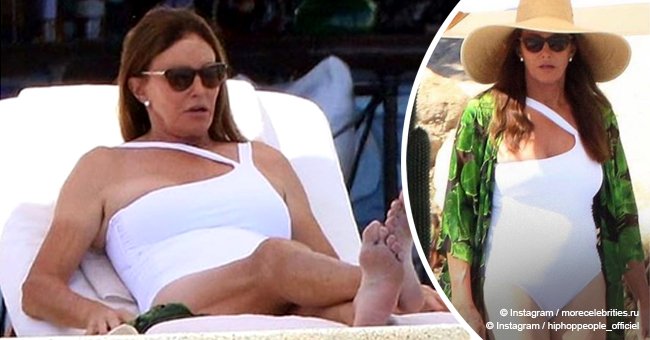 Caitlyn Jenner shows off her bare legs in a white swimsuit while celebrating her 69th birthday
Caitlyn Jenner celebrated her 64th birthday with her alleged girlfriend, the 22-year-old Sophia Hutchins.
The pair was spotted on Los Cabos with Jenner wearing an elegant white asymmetrical one-shoulder swimsuit. Read more on our Twitter account, @amomama_usa.
Jenner donned a green kimono with leaf print while Hutchins covered her white two-piece with a multicolored kimono.
Jenner accessorized with a wide-brimmed hat and sunglasses. Photos of the outfit can be seen below.
Fans started asking about the woman in Jenner's life a year ago when they were spotted together on a trip to Mexico.
Jenner uploaded a photo of the resort, which led to fans wondering if Jenner and Hutchings were sharing a room.
Jenner confirmed Hutchins was just a friend and they often socialize with a group of transwomen in their friends' circle.
At the time, Jenner told People that the public's obsession with her love life might frighten any potential partners off. Her partner would also be under constant scrutiny.
Hutchins is the executive director of Caitlyn Jenner Foundation, and the duo recently attended a private event for the foundation at a boutique in Beverly Hills.
Proceeds from the evening's clothing sales went towards to the foundation that Jenner started a year and a half ago.
Since the foundation has expanded, Jenner has plans to launch new programs to support the trans youth community in whatever way possible.
She explained that the trans community is the most misunderstood and has hopes that her organization could help youth in need. Jenner added:
"Of the L, the G, the B, and the T, the T is by far the most misunderstood and the most underfunded. When you have a foundation like this, there's a progression of how you help — what's the best way to help? And that constantly grows."
Additionally, they would like to organize a secondary drive solely to focus on uplifting "trans folks from cycles of unstable employment and housing."
Please fill in your e-mail so we can share with you our top stories!