Little girl stole Meghan's attention by reaching out to her maternal senses
On the final day of Prince Harry and Meghan's tour, they spent time on the little things that made a big difference to those in Rotorua, New Zealand.
The last day of the royal couple's tour arrived and The Duke and Duchess went on their last public walkabout in Rotorua, New Zealand, greeting the many fans that started queuing hours before the royal couple's arrival.
Meghan Duchess of Duchess and Prince Harry visit Te Papaiouru Marae on the final day of their #RoyalTourNZ where they received a Korowai traditional Maori cloak #RoyalVisitNZ #Royals pic.twitter.com/QLoVhgRWkk

— Rookie (@royalfocus1) October 31, 2018
Signs were held up by many in the crowd, one saying 'Fancy a cuppa Megs? I have banana bread,' while another one read 'Hello your royal bumpness.'
As the royal couple moved along greeting fans, one little girl crept through the railings to meet Meghan, and she gave the two-year-old a warm hug.
Read more on our Twitter account @amomama_usa.
The Duke and Duchess of Sussex visit Te Papaiouru Marae in Rotorua for a formal pōwhiri (traditional Māori welcoming ceremony) #RoyalVisitNZ pic.twitter.com/10hEckdIdW

— Lizzie Robinson (@LizzieITV) October 30, 2018
A young royal fan caught Prince Harry's attention, she was wearing a shirt that read 'Girls Can Do Anything' and he called Meghan over to meet her. One person in the crowd can be heard saying that they felt she looked a bit like Meghan and she replied:
"I was literally about to say the same thing!"
Watch Meghan Markle React to Fans Chanting Her Name During Last Meet and Greet of the Royal Tour https://t.co/civGPlRtcZ

— People (@people) October 31, 2018
Prince Harry took a fan's phone and snapped off a photo of Meghan with her mini-me, something the Prince rarely does. The couple then went on to start their last day with a formal pōwhiri and luncheon and went on to meet two little kiwi chicks while a third hatched moments before their arrival.
The people at the hatchery then asked the Royals to choose names for the baby birds. They will end the day with a visit to the Redwoods Tree walk Rotorua, a long walkway of suspension bridges between 117-year-old Redwood trees.
A
special
moment came to pass during the royal couple's public walkabout in Auckland on the third day of the couple's tour of New Zealand. Hannah Sergel was part of a huge group of fans, but she wasn't just any fan. In 2015 Hannah had helped set up a Meghan Markle Daily Twitter account before Meghan became royalty.
Hannah and Meghan used to message on Instagram and she shared her battle with mental health with Meghan, who sent her a video message among other messages encouraging her to work hard at university.
20-year-old Hannah held up a sign that read, 'It's Hannah from Instagram.' Meghan spotted the sign and immediately recognized Hannah, her stunned reaction got captured as she mouthed 'Oh my god' as she rushed over to greet Hannah before giving her a big hug.
Hannah said she was left 'so shaky and flustered' after the encounter, but it meant the world to her. She said that Meghan told her she would read the letter Hannah had given her and thanked her for getting in touch.
Hannah felt grateful for the chance in finally being able to meet Meghan while the tears flowed. The New Zealand prime minister Jacinda Ardern herself comforted Hannah and sent her a photo of Meghan's reaction to seeing her in the crowd through private message.
With the royal couple's tour practically over, they won't have many more opportunities to break royal protocol as they did during their tour, and specifically during their last day as Prince Harry used a fan's phone to take pictures of Meghan posing with a fan, and all the hugging that took place. Both acts against protocol.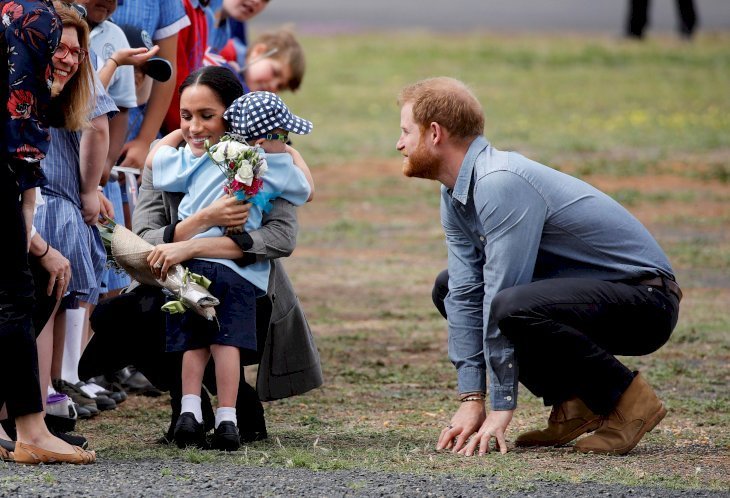 Meghan Markle, in particular, broke just about every royal protocol during her first royal tour with Prince Harry. The habit of having her hands in her pockets, kicking off her shoes while on the beach, the hugging and posing for pictures with fans are all not allowed.
Prince Harry was not far behind as he also hugged and posed for pictures with some fans. It may be against protocol, but their kindness and genuine show of interest earned them a loyal following.