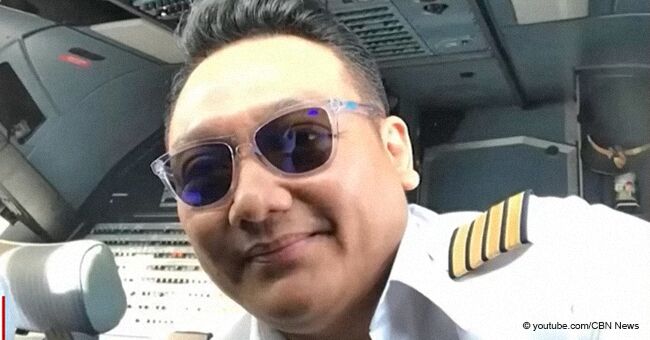 Pilot saves 148 passengers on a plane thanks to a voice in his head
A devoted Christian pilot working for Indonesian airline Batik Air allegedly payed attention to a voice in his head he believes to be God, and thanks to this he saved his own life and that of all the passengers on his flight.
On September 28, 2018, a devastating 7.7 earthquake and a tsunami hit Indonesia, claiming many lives, but commercial pilot Ricoseta Mafella was "warned" about it in time to fly away unharmed along with 148 passengers, as CBN reported.
According to the Christian news outlet, Mafella, who describes himself as a man of faith, heard God telling him to take off from the Palu airport earlier than planned, and his decision to obey the voice in his head ended up being the right one.
Mafella usually hums devotional songs during his flights, but on that particular day he felt the need to sing out loud, and he considered this a sign. "God seemed like He was saying, 'Hey just praise me and worship me,'" he shared. Read more on our Twitter account @amomama_usa
By the time Mafella experienced this curious feeling, there was nothing around that could indicate him that a disaster was about to take place in his country. He landed the plane with nothing to report and was getting ready for his next flight.
But three minutes earlier than the time when he had permission to take off, Mafella claims to have heard God clearly this time, prompting him to fly the plane immediately.
"Be quick, get out of this place. Depart early," Mafella quoted the voice telling him. And that's exactly what he did, in a decision that proved to be the best one he could make, given what happened right after he did as "instructed."
"The quake started at the Donggala area 17:55... 5:55 pm. I pushed back at 5:52. The highest 7.7 and 7.4 magnitude hit exactly after my lift off!"
-Ricoseta Mafella, CBN, October 24, 2018.
As soon as the plane was safely in the air, the control tower of the airport collapsed, and it would have hit the vehicle if Mafella had stayed to wait for the agreed departure time.
Mafella thanked air traffic controller Anthonius Agung for given him clearance to take off as the control tower started to fall apart. With the tower roof caving in, and no time to escape, Agung was forced to jump from the 4th floor, which later caused his death.
Agung was hailed a "guardian angel" by Mafella. "Batik 6321 clear for takeoff," were Agung last recorded words, and by saying them he became a national hero.
"I'm in a WhatsApp group with other air traffic controllers and one of them told me that they had asked Agung to get away from the tower. But he said wait, wait, Batik [Air] is still here," Mafella told BBC.
"Oh God thank you so much! God reveals everything -- if you are late 1 or 2 seconds, it could be disaster. I don't need to prove that God is alive. God is real! I have seen it and that is enough for me," concluded Mafella.
Faith is a very personal matter, and it is subjective: you either believe or not. Where faith-oriented people see divine intervention, in other words "a miracle," skeptics see coincidence. But sometimes things work out in a way that cannot be explained.
Ultimately, it is up to the religious authorities to officially acknowledge an event to be a miracle, but people from all walks of life are not shy to call something a miracle when they are facing the unexplainable.
For instance, a group of police officers from Montana have no doubts that the case of a 5-month-old baby who was found alive after being buried in a pile of sticks and debris in the woods for 9 hours was a miracle.
"For all of us at the sheriff's office, this is what we call a miracle. For the officers who were present for this event, it's especially hard knowing what this small baby endured in the last 24 hours," the officers involved in the search and unlikely rescue stated.
Gianna Masciantonio's story is another one on which the people involved is sure that a miracle took place. After Gianna was diagnosed with a brain tumor and doctors treated the child in all the ways possible during more than a year with no positive results.
With nothing else to do, Gianna's father Joey asked for the help of a friend in the FBI to get a pass to meet Pope Francis during his motorcade at Philadelphia's Market Street.
As soon as the Pope drove by, his head of security, Domenico Gianni, noticed the baby being held high above the head. The security personnel then grabbed the baby and brought her to the Pope.
Pope Francis lunged forward and then kissed Gianna on the head, giving her his blessing.
Six weeks after the encounter, Gianna's latest MRI results returned. To the delight of the family, her tumor had shrunk significantly and was "basically just a blush on the screen."
Please fill in your e-mail so we can share with you our top stories!