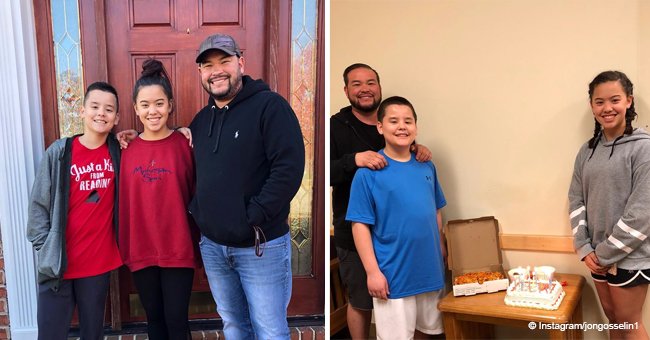 Jon Gosselin shared a rare weekend family photo taken with troubled son Colin
Television reality star and DJ Jon Gosselin shared a rare picture with his son Collin on Sunday. According to the caption, the teenager was visiting with his sister Hannah.
It seems the visit was only for the weekend. The image, which was taken in Reading, Pennsylvania, was shared on Jon's Instagram page.
The photo showed Jon Gosselin, 41, standing outside his home with his two 14-year-old children, Collin and Hannah. The three were all smiles in the image.
Jon captioned the picture:
"Had a good weekend visit with Collin at home."
For more on this story go to our Twitter account @amomama_usa. Collin hasn't been seen on his father's Instagram since May.
In the same month, he also appeared in photos on Hannah's Instagram page. It seems Hannah spends the most time with her father compared to her seven siblings.
In April, she was the only one who appeared in photos with Jon when he celebrated his birthday. The reality star and his ex-wife, Kate Gosselin, are famous for being on TLC's "Jon & Kate Plus 8."
The show changed in 2009 to "Kate Plus 8" after the couple's divorce. The pair also shares 18-year-old twins Cara and Madelyn; and sextuplets Collin, Hannah, Alexis, Aaden, Leah and Joel, all 14.
On recent seasons of the reality show, Collin has rarely appeared. In 2016, he was checked into a behavioral health facility.
"Collin has special needs. [There's] a fairly fluid diagnosis of what those needs are, but he needs to learn certain strategies to help him deal with things. This has been a struggle we've had for a very long time, and it's one I've dealt with on my own. I am confident he is in the best hands and receiving the best of what's being offered for his situation."
In November 2016, Jon revealed that he wasn't told where Collin was. The DJ claimed that his ex-wife had refused to give him updates on their son.
Jon also insisted that the teenager hadn't shown any signs of behavioral problems in front of him. After their divorce, Kate was given full custody of Cara and Madelyn, whereas Jon got partial custody of their sextuplets.
In 2016, Jon made a rare appearance on "The Steve Harvey Show" for a special "Where Are They Now?" segment. There he opened up about his divorce revealing that the network tried to keep them together for the reality show and that's what made him quit.
Please fill in your e-mail so we can share with you our top stories!