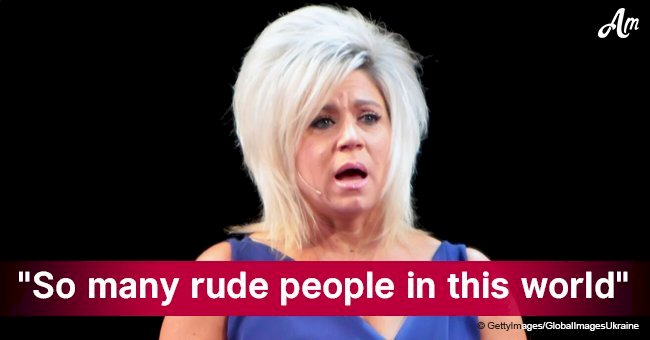 'Long Island Medium' Theresa Caputo shares 'heartbreak' over daughter's bullying
Theresa Caputo's daughter Victoria has endured online bullying after gaining some weight. Victoria recently told her mother, who was devastated.
The reality show star shared her sentiments in the most recent episode of "Long Island Medium" on Monday. As any mother would be, she was heartbroken to hear what people were telling Victoria.
The 24-year-old told her mother that people say "rude things on Instagram." When she specified that people were calling her "fat," her mother was stunned. The preview clip is found below.
According to Good Housekeeping, she comforted Victoria by telling her she wasn't defined by her weight. Caputo further stated that the negativity coming from others is sadly a part of life.
Additionally, Victoria received tons of online support from Twitter fans. One person, in particular, explained that people generally bully others when they are jealous.
Victoria had begun to gain weight since back in August. The internet trolls would go back through her photos and put the nasty comments where they saw fit.
But the young woman has already started defending herself. In August, she posted a photo and captioned it:
"Just want to give a shout out to all my haters. Yes, i have gained weight recently and although i am not happy about it and have my insecurities it does not change me as a person. Plus I'm sure there will be a day that will come and i will shed this weight but as of now this is what it is. So for all of you who want to keep commenting about the way i look, just don't. Worry about yourself because your comment ain't going to make you any better of a person."
Apparently, the comeback didn't work then and still isn't working. On the show, Caputa said that it was still going on.
We hope that with the support following the episode, the bullies will have a change of heart and realize they're hurting someone.
Mother Caputa was also hurt recently when she and her husband separated. It came after nearly three decades of marriage.
In a September 2018 episode, the star finally revealed that there was "tension" in her marriage with husband Larry. The two announced their separation in December 2017.
She also told E Online that "there is no purpose in being angry and being mad. We have over 30 years together and you just can't forget about that."
The former couple share children Victor and Larry Jr. The split appeared to be mutual and on ended on good terms. A joint statement stated they "will always love each other and [their] two children."
Let's hope the bullies can also try to be more loving towards the family. They should remember that they are indeed humans as well.
Please fill in your e-mail so we can share with you our top stories!