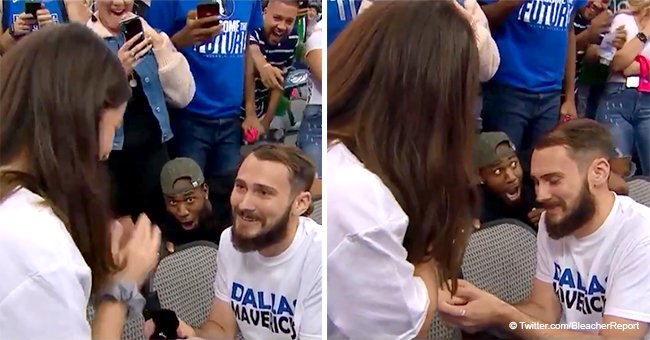 Man hilariously photobombs Dallas Mavericks game proposal in viral video
When a man staged a proposal in front of 20k people at a Dallas Mavericks basketball game, he would have never imagined that another man will steal the show thanks to his hilarious reaction. Now, the man has earned an invitation to the couple's wedding next year.
Keith Houseworth, 23, and his girlfriend Panda Green, 20, attended the Dallas Mavericks vs. the Utah Jazz' game on October 28. Everything was going normally for the young couple until they were shown on the big screen with a "kiss cam."
Green was shocked to see herself on screen, and in a few seconds, the "Kiss Cam" titled changed to "Panda, Will you marry me? Keith." Green's reaction was the expected one, she was surprised and stood up while Keith kneeled and put out the ring. She said yes, of course.
THE CROWD'S REACTION
The crowd went wild from the moment they realized what was happening, but an individual's reaction stole the show, and the man became famous for adding a bit of fun to the otherwise overly emotional proposal.
Jonathan Miller, 27, stood up from his seat to scuttle closer to the couple and witness the whole proposal from up close. His hilarious expressions of surprise and excitement went viral on Twitter, where a video of the proposal has earned over 3.28 million views and 120k likes.
Instead of being disappointed about a stranger stealing the spotlight from their special moment, Green and Houseworth were as delighted as the rest of the world by Miller's reaction.
GETTING AN INVITATION TO THE WEDDING
They loved it so much that they ended up extending an invitation for the man and his friend to their November 2019 wedding.
"Whether people think he stole the show or not is good with us because what matters is that Keith and I are happy that we are engaged and ready to start our new lives together," Green said to Insider. "John [sic] and his friends were just as excited as we were!"
Miller, a former college football player, said that he just wanted to be "extra" about the proposal but never expected to be featured on so many sports sites and become a meme. He told Insider:
"I just wanted to hype up the emotion around it; I understand how important it was to them as well which is why I only made a surprised look. I did not think it was going to go past being on the Jumbotron honestly."
"I wish nothing but a lifetime of happiness for the couple," he concluded.
ANOTHER WITNESS OF A PROPOSAL WENT VIRAL
Matthew Dippel, just like Jonathan Miller, was the witness of a proposal. But he became famous for very different reasons.
Dippel is a photographer who was at the right place, at the right time to capture the moment a man proposed to his girlfriend at the top of Yosemite National Park. He was touring around the park, famous for its cliffs and waterfalls, when he noticed a couple having a romantic moment on a nearby cliff.
He didn't hesitate in capturing the moments with his cameras, snapping a few fantastic pictures with the sunset right behind the couple. He realized he had to found them and show them the pics, but he didn't have luck.
Decided to reach out the couple, he started a search with the help of social media, and it was almost two weeks later that he finally found them.
Melissa Ngo and Charlie Vu contacted Dippel through Instagram, and even though they were busy planning their wedding and traveling around, the couple made time to surprise Dippel on an emotional reunion at "Good Morning America."
Please fill in your e-mail so we can share with you our top stories!