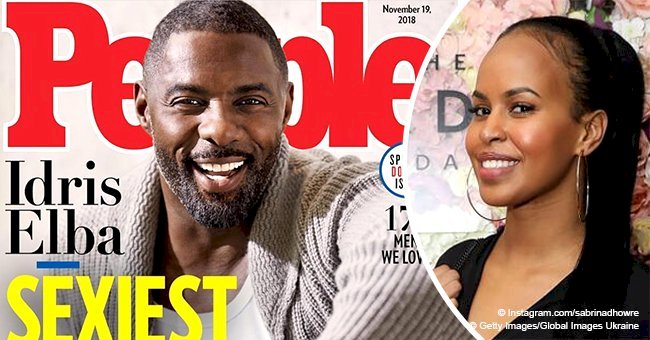 Idris Elba's fiancée shares photo of 'hubby' after he was hailed 'People's 'Sexiest Man Alive'
Sabrina Dhowre is a proud fiancée, and she's not shy to let the world know. Her man, Idris Elba has just been crowned People Magazine's "Sexiest Man Alive" and Dhowre had a specific message for the publication.
Taking to Instagram with the People cover announcing Elba's new title, Dhowre gushed over the man she said Yes to earlier this year. She also let the magazine know she's been in on the fact long before now.
"That's my hubby!!! Yaaaaasssssss thanks @people but I already knew #chocolateforthewin"
As though we thought any different before, the model, 30, also told everyone she loves waking up her man's face.
SEXIEST MAN REQUIREMENTS
People Magazine announced the British actor as its Sexiest Man Alive, and while speaking about the selection process, Jess Cagle, People Editor-In-Chief explained:
"For a man to be sexy in 2018, we need to know that they are respectful of women and that there's a kind of kindness and generosity of spirit about the guy."
REACTION & CONFESSION
All those qualities were found in Elba, 46, who said he had to look in the mirror when he first heard the news.
"I was like, 'Come on, no way. Really?'" the "Beasts Of No Nation" star revealed. "Looked in the mirror, I checked myself out. I was like, 'Yeah, you are kind of sexy today.' But to be honest, it was just a nice feeling. It was a nice surprise - an ego boost for sure."
Elba, who also holds the title of Officer of the Most Excellent Order of the British Empire (OBE), might have come a long way in his career, but he confesses that he was not always the sex symbol he is today.
He was an athlete at his all-boys school in London, but Elba knows what it feels like to go through an awkward phase:
"I was very tall and skinny. And my name was Idrissa Akuna Elba, okay? I got picked on a little bit. But as soon as I could grow a mustache, I was the coolest kid on the block. Grew a mustache, had some muscles, bonkers."
Elba first saw the People cover announcing his new title when he appeared via satellite on the "Tonight Show With Jimmy Fallon." Proving that he truly is one of the sweetest men around, Elba told Fallon: "my mom is going to be very, very proud."
THEIR LOVE STORY
Elba proposed to Dhowre in February at a screening for one of his movies. It was the same film he was shooting in Canada when he met and fell in love with Dhowre, a former beauty queen. Since then the two have become inseparable and often feature on each other's social media accounts.
A MAN IN LOVE
In September, a besotted Elba was pictured staring at his bride-to-be who poured her curves into a clinging black dress and posed for pictures after an event.
Dhowre also famously went with her fiancé to the royal wedding of Meghan Markle and Prince Harry in May. Elba came to her defense when the Somalia-born beauty was trolled for her outfit choice.
According to The Sun, Dhowre has also faced racist abuse from trolls who bizarrely complain she's too white and too black to date the "Luther Star."
Meanwhile, Elba already has two children from previous relationships. His young son, Winston is the result of a relationship between Elba and Naiyana Garth, while his teenage daughter, Isan, was born from his marriage to ex-wife Kim Norgaard. Elba was also once married to lawyer Sonya Hamlin for six months in 2006.
Please fill in your e-mail so we can share with you our top stories!