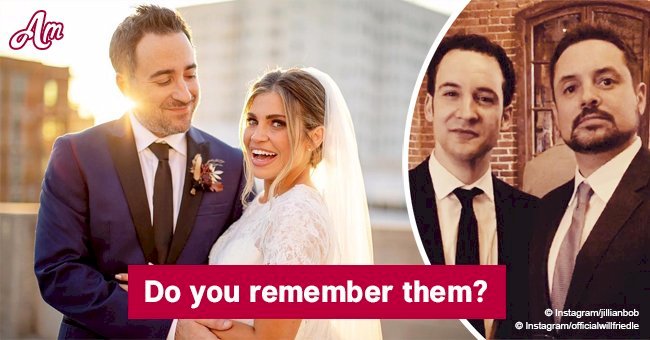 Danielle Fishel's fabulous wedding is also a 'Boy Meets World' stars' sweet reunion
Danielle Fishel just got married to producer and podcaster Jensen Karp. The "Boy Meets World" alum had some nostalgic names on her guest list.
Fishel, known for her role as "Topanga Lawrence" in the series, posted some heartwarming photos to her Instagram. The pictures showed off a gorgeous rooftop view as she stood next to her new husband.
According to Today, Karp was previously known as "Hot Karl" when he used to do rap battles. His podcasting show is called "Drop the Mic."
It's the second time the 37-year-old actress has walked down the aisle. Karp, 38, called Fishel his "soulmate" so we sure hope it lasts forever this time.
Both Karp and "Mrs. Karp" posted a few endearing snaps of the beautiful ceremony from November 4. Fishel captioned one sweet photo with:
"That's Mrs. Karp to you."
Fishel's old co-stars also posted some shots, drawing in tons of fans of the 90's show. Will Friedle, who played Eric Matthews, posted a selfie with Ben Savage, who played Cory Matthews.
Behind them, John Mayer pulled off a professional photobomb. Friedle captioned the pic: "When you try to take a cool 'Reservoir Dogs' kind of shot with your TV brother but are photobombed by John Mayer."
"Thanks John! My favorite picture of an amazing night at Danielle and Jensen Karp's wedding! We love you guys!"
Fishel's previous marriage was to Tim Belusko. It lasted for three years before they divorced in 2016.
The show's network, ABC, did not want the famous marriage between Topanga and Cory to go through. They felt a teenage marriage would be too much. However, a vote from fans made it happen.
Later on, Strong, who played Shawn, coincidentally held his marriage in 2013 on the exact same weekend as Fishel's. It was a bit awkward and made worse when Strong let the media in on the dates.
Apart from that awkward incident, fans are loving the recent reunions. There was another one back in August 2018.
Matthew Lawrence and Ben Savage came together for the former's engagement party in Los Angeles. Lawrence had played Jack Hunter on the show. He is set to marry dancer Cheryl Burke.
Please fill in your e-mail so we can share with you our top stories!