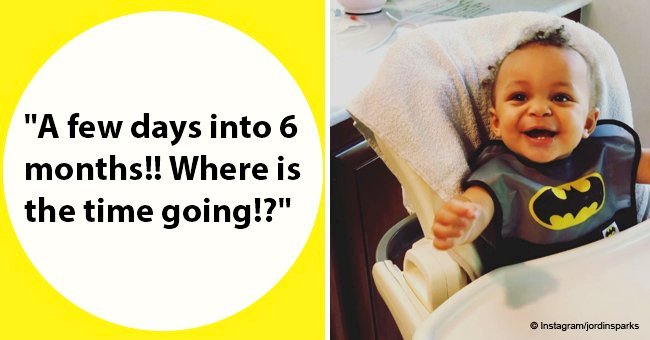 Jordin Sparks gives update on her baby son's growth as she shares adorable video of him
Jordin Sparks, the singer who won the sixth season of "American Idol" at the age of 17, took to Instagram to share a video of her son, DJ, while giving an update on him.
In the clip, the boy appeared sitting on a highchair wearing a Batman bib while eating green beans. He was smiling and laughing when the video started, but his face changed a bit when he tasted the food.
He seemed to like it, though, as he enjoyed eating the rest of it. At some point, DJ reached out for the bowl, but Jordin moved it away to avoid a messy ending.
A PROUD MOTHER
For the caption, the singer wrote, "A few days into 6 months!! Where is the time going!? Lil Man just started his solids and he's already a pro! Homemade green beans today! Not only that, he slept 7 hours straight last night!!! He also has a 3rd tooth coming in!"
GLAD FOR SLEEPING AGAIN
She admitted to feeling grateful for all the milestones and for the fact that she could sleep properly again. "I'm just so excited!! Mamas, you feel me?!!!!" added Jordin right before urging people to vote.
THE BOY'S BIRTH
DJ was born on May 2, 2018. Jordin chose an "all-natural" delivery at a birthing center because hospitals felt strange to her, reported People. Dana Isaiah, the singer's husband, was by her side the whole time.
Another interesting fact about DJ's birth was that Dana caught him when he was finally out of his mother's womb. The proud father confessed that several people had told him that he could never change the image of Jordin during the delivery, but he was just focused on DJ coming out, so that was not really a problem.
DANA'S THOUGHTS DURING THE DELIVERY
"It was just that realizing moment, that everything you had been preparing for was here in your hands. Every emotion that you felt throughout the entire pregnancy from start to beginning just 'Bam,' and it hits you," said Dana, who couldn't hold back tears when Jordin finally gave birth.
That was not the first time that DJ appeared on his mother's social media account as Jordin uploaded a short video in October showing her holding the boy while standing in front of a mirror.
A PLAYFUL FAMILY
Dana was behind DJ kissing and ticking him in what was labeled as a very adorable family time. The baby showed just how photogenic he is as he couldn't stop smiling. His beautiful eyes attracted a lot of attention, too.
"Is that you? Handsome," says Sparks, as little DJ starts giggling because of his father's ministrations. "Is that ticklish?" the singer asks, as the baby keeps laughing and his father plants a final kiss on his back.
Please fill in your e-mail so we can share with you our top stories!