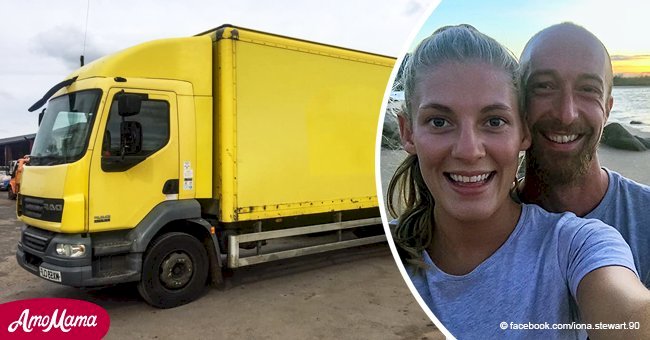 Couple transform an old truck into a stunning home and it looks even better than most apartments
A Nottingham couple, who love traveling, converted an old delivery truck into a spectacular mobile home.
Iona Stewart and Martin Hill love traveling, and they wanted a home that would travel with them. This would not only ease their accommodation cost but would give them a nice place to live in at the most economic cost.
They decided to purchase a "big American RV" styled vehicle that they could drive around as well as use it to live comfortably.
Their search led them to a truck that was previously used for bread delivery but was now put up for sale on eBay. The price of the truck was listed at just about $4,600.
Follow us on Twitter to learn more.
"About four years ago after a few too many beers, I thought about buying a big American RV," Bored Daddy quoted Martin as saying.
Although the task wouldn't be so easy, the couple decided to buy the truck and convert the vehicle into a mobile home by themselves.
After buying the truck, the couple worked hard on its renovation. Hill did most of the physical labor work while Stewart worked on the interiors.
"We bought the lorry in May this year. We spent four months working on it full-time," Martin told the source.
Working full-time, they put in four months of labor into their project and the result is more than impressive.
By spending just about $25,000 on the renovation of the truck, the couple built themselves a comfortable dwelling that could also take them places.
Although this much of investment might seem too expensive for renovating a truck, it is important to consider that the cost of getting an actual house in their Nottingham neighborhood goes above $250,000.
During their renovation, the couple made most of their materials by reusing the extra pieces of a truck and added artworks and trinkets wherever possible to add a personal touch to the decoration.
Their mobile home is now fully furnished and has got everything that one might expect from a typical home.
However surprising it may be, the couple's effort at renovating their old delivery truck is not an isolated event.
Previously in 2013, 50-year-old Joseph Tayyar also renovated his truck to become a mobile house that provides a stylish dwelling and a comfortable living.
Another woman named Brenda Kelly also made major headlines when she managed to convert a 20-foot shipping container into a tiny yet stylish home for herself.
Please fill in your e-mail so we can share with you our top stories!