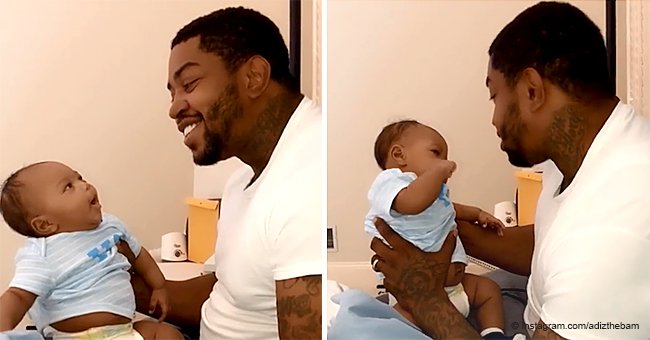 Bambi shares heart-melting video of husband Lil Scrappy talking to their baby son

A cute video of Lil Scrappy and his newborn son reveals a love language only the two of them understand.
Lil Scrappy and his newborn baby features in an adorable clip posted by his wife Bambi Benson. In the video, the rapper engages in baby talk with his little son and they seem to be forming a sweet connection.
Scrappy welcomed his first child with Bambi on September and the couple have been gushing over him since then.
On the day he was born, Scrappy took to his Instagram to reveal his name and give thanks to God and his wife for "pushing thru like a champ." He revealed she gave birth to their son in merely three pushes.
A photo of the family in the hospital was also shared by Bambi as she reflected on her feelings. She confessed feeling like she was dreaming and declared her son as "just everything."
A week later, the couple shared more photos of their newborn.
Along with a series of photos commemorating his first week, Breland also has photos spending quality time with his family. Bambi shared an image of Scrappy taking on daddy duties holding Breland in his arms.
Meanwhile, Scrappy shared a photo of his older daughter, Emani cradling her half-brother.
"Man I'm blessed I got both of my babies ya dig and my big baby my wife I'm getting all the blessings from the big God," he wrote, grateful for his family.
More recently, Scrappy delighted in having a conversation with Breland. In a video Bambi shared, the rapper appears to be communicating with his son in a language unknown to his wife. "What are y'all talking about" she asks in her caption.
Breland appears to be engrossed in whatever his father was telling him. They seemed to have formed a connection and a language that only the two of them understood. Scrappy patiently uttered jibberish as his son stared at him. The lovely moment is proof of the kind of father Scrappy is and Bambi must be grateful to have him to share parenthood with.
Please fill in your e-mail so we can share with you our top stories!