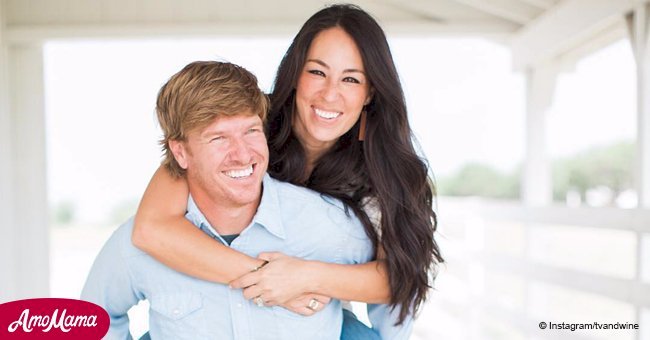 More details about Chip and Joanna Gaines' return to TV you need to know about
Chip and Joanna Gaines may be returning to TV bigger than ever. Chip announced it to his "mom" on national TV.
The Gaines made a decision to end their run of HGTV's "Fixer Upper" in 2017. They were on their fifth child Crew who was welcomed in July. Now they're ready to charm TV audiences again.
According to Variety, they will be bringing their home and lifestyle-oriented Magnolia business to the big screen. It will likely be through a relaunch of one of two networks: Great American Country or DIY.
Follow us on Twitter for more @amomama.
John Marsicano, Magnolia's spokesman, said:
"We're excited to share we are in the early stages of talking with Discovery about a lifestyle focused media network for Magnolia."
He continued:
"The details surrounding this opportunity remain a work in progress but together our hope is to build a different kind of platform for unique inspiring and family-friendly content."
The home improvement couple may also be involved with a companion streaming service. Discovery has 12 U.S. channels to choose for the relaunch. The two contenders, Great American Country, and DIY reach around 60 million homes.
Discovery released a statement addressing the reality stars' return:
"Discovery is thrilled to confirm that we are in exclusive talks with Chip and Joanna Gaines. The Gaines' are exceptional people, true authentic storytellers and creative visionaries who will nourish millions of people with quality, family-friendly programming accessible on a 24/7 network and across all screens."
The Gaines' Magnolia business focuses on lifestyle topics in line with Discovery's goals. The couple runs the business from Waco, Texas - their home base. It consists of a decor shop, a restaurant, furniture items and more.
Chip himself spoke about the new move when he was interviewed by Jimmy Fallon with his wife. They spoke to the host of "The Tonight Show Starring Jimmy Fallon" last Friday.
"We signed a non-disclosure and it said quote unquote you can tell your mother, but that's it."
With that, he hilariously added:
"So mom, I just wanted to make a quick announcement, we are coming back to television. You are going to get to see the kids grow up, you are going to see us — well maybe a six-month delay like the rest of the world — but we are excited to be back."
Discovery acquired the parent company of HGTV - Scripps - earlier this year. They are taking steps to revamp underperforming channels in the U.S. They will soon find out if the Gaines are able to assist through their lifestyle, design, and how-to expertise.
Regarding the comeback, Chip also told Fallon:
"I think we're really going to carve it out in a way that really makes sense to us and our families. It'll be filmed a lot in Waco, Texas, so we don't have to travel a whole lot. All things being equal, we could not be more excited."
Source: YouTube/ The Tonight Show Starring Jimmy Fallon
Since their last episode in April 2018, the Gaines have continued their success through several other projects. They have a lifestyle magazine called "The Magnolia Journal, a Target product line, and of course their Silos Magnolia Market.
But fans will be happy that they are returning to the small screen. The couple's decision in September 2017 to end their streak was never desired, but family duties called. At the time, Chip said:
"The show was amazing and we are so thankful for it, but it's also a whirlwind where, if you are not careful, it will flat run you over. You can't believe how out of gas you are."
It's no surprise that the lifestyle professionals are already prepared to go full steam ahead on the new network.
Please fill in your e-mail so we can share with you our top stories!