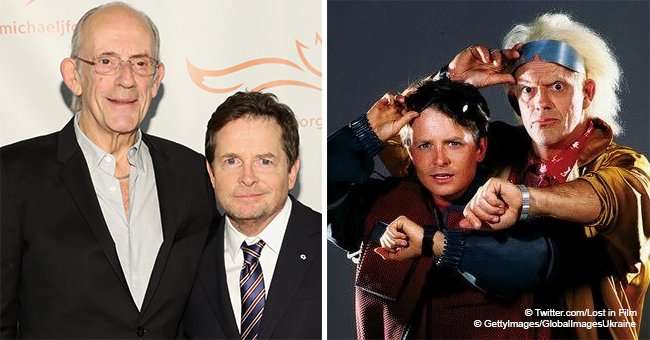 Michael J Fox looks radiant as he reunites with Christopher Lloyd in a rare red carpet appearance
"Back To The Future" cast reunite at a charity event in New York.
"Back To The Future" was one of the most successful films of the 80s and it is just as popular 30 years on, capturing new fans with each generation.
In the movie, eccentric scientist Emmett "Doc" Brown built a time machine, and 17-year-old Marty McFly is thrust back into the 1950s where he meets his parents as teens.
McFly was played by Michael J. Fox, and "Doc" by Christopher Lloyd. "BTTF" fans were given a rare treat when the two actors shared a red carpet at the New York Hilton where Fox was hosting a fundraiser for a charity devoted to Parkinsons' Disease, reported The Mirror on November 11, 2018.
30 YEARS AFTER THE PREMIER, STARS ARE BACK TO THE PAST
The first film of the "BTTF" franchise was launched in 1985, and the two actors have gone through a lot of changes in the last 33 years.
Lloyd is now 80 years old, and after "BTTF" he went on to play such marvelous characters as Judge Doom in "Who Framed Roger Rabbit," and Uncle Fester in "The Addams Family."
FOX WAS DIAGNOSED WITH PARKINSONS' AT 31
Fox was at the height of his career and his popularity when he was diagnosed with Parkinsons' disease at the age of 31. In 1998 he decided to go public with his condition and became actively involved in raising awareness of the disease worldwide.
RAISING MONEY FOR PARKINSONS' RESEARCH
Fox created the Michael J. Fox Foundation for Parkinson's Research and in 2016, the organization created a raffle to raise awareness for Parkinson's disease and raised $6.75 million.
THE MOST INFLUENTIAL FOUNDATION IN THE WORLD
Fox's Foundation has become the largest non-profit funder of Parkinson's disease research in the world, investing more than $650 million in scientific investigation since it was created.
ALL ABOUT "BACK TO THE FUTURE"
In the first, "BTTF II," Marty and "Doc" travel to 2015 and discover that their lives are in ruins. To fix this they end up traveling back to the 50s.
In the third and last "BTTF" Marty travels back in time to rescue "Doc" who is trapped back in 1885, in the Wild West. Marty meets his ancestor and overcomes his own weaknesses.
Fans will be surprised to hear that the "BTTF" script was rejected 40 times by every major studio, before getting taken up by Steven Spielberg's Amblin Entertainment.
The film was directed by Robert Zemeckis, and the film's London premiere was attended by Princess Diana.
Fans of "BTTF" will be thrilled to hear that a "Back to the Future" musical with music and lyrics by Alan Silvestri and Glen Ballard and a book by Robert Zemeckis and Bob Gale is expected to open in London in the near future.
Please fill in your e-mail so we can share with you our top stories!