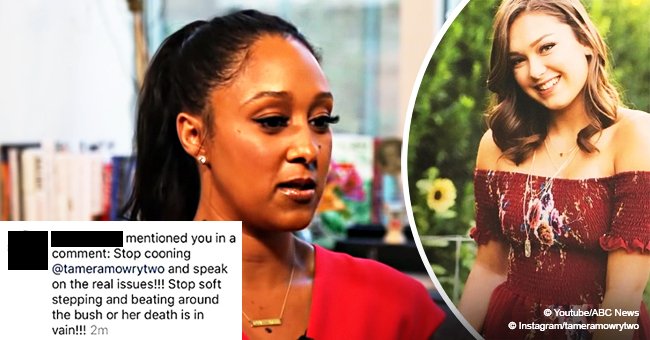 Tamera Mowry fires back at critics who slammed her reaction to the death of her 18-year-old niece
A grieving Tamera Mowry was in no mood to be judged so she clapped back at a critic who slammed her recent interview following the death of her niece. "You don't talk this way," the television star warned.
It would seem like an inopportune time for fans to judge the way Tamera Mowry grieves for her late niece. But this is exactly what happened recently and Tamera made no room for it.
MAKING SENSE OF ALAINA'S DEATH
Tamera recently guested on CBS This Morning along with her husband Adam Housley. They were joined by Adam's brother Arik, the father of Alaina, the slain member of their family. They spoke about their grief and what they think brought about the senseless death of Alaina on that tragic day of the Borderline bar mass shooting. They also spoke about how to solve this recurring problem. Instead of focusing on the issue of gun control, they lobbied for the spread of kindness and the bridging of political division.
Tamera was tearful when she remembered Alaina and spoke about today's reality.
"Alaina was beautiful and she was my friend."
"Yes there needs to be a change. But all the noise. Nothing's been done."
TAMERA VS. HER CRITIC
This portion of her interview was captured by The Shade Room and posted on its page. It prompted a follower to criticize Tamera and slam her for "beating around the bush."
"Stop cooning @tameramowrytwo and speak on the real issues!!! Stop soft stepping and beating around the bush or her death is in vain!!!"
It didn't take long before Tamera clapped back, refusing to be judged. She shared the offensive comment on her Instagram and wrote,
"You are apart [sic] of the problem. This is the prime example I spoke about in my interview. If you have love in your heart. You don't talk this way. You obviously missed the message. And don't you ever judge the death of my niece."
THE GREATER PICTURE
If Tamera's critic had listened in on her whole interview, she would see that the greater discussion focused on love and kindness as the key to solving the world's problems. Her husband explained that just focusing on the issue of gun control would lead them to a dead end.
"If I was to walk out of here and the first thing I was to say was, you know 'gun control,' guess what? Half the country [snaps his finger]. [The conversation] ends."
Tamera adds that the whole point is not to allow the conversation to end.
"We want it to continue. I think it starts there. You start with imagining, wait a minute, what if that was my child or my niece or my cousin? It will get you in a place of just having some sort of human decency."
BASHED IN THE MIDST OF GRIEF
The Housleys have been through hell since discovering their niece was missing after news of the shooting broke. Their devastation hit an all-time low when they found out she had died that night.
Adam told the show's hosts that despite their loss, fans found ways to dish out hurtful comments. One of these comments said he deserved it because he worked at Fox News. Adam added that it even got liked 78 times.
It truly is a wonder how people could find it in them to break a heart that's already broken. Tamera Mowry and Adam Housley certainly don't deserve to be bashed at a time like this. This is exactly why love and kindness is the one thing this world truly needs.
Please fill in your e-mail so we can share with you our top stories!