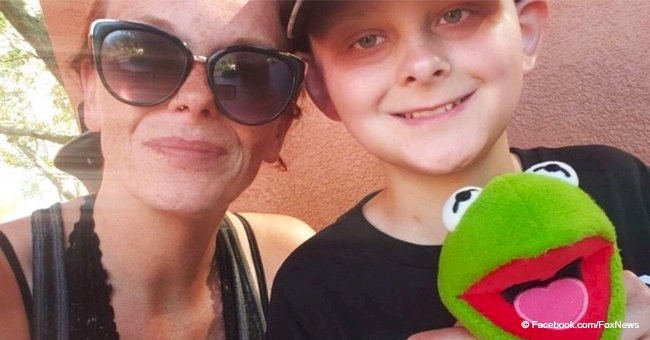 Ohio boy, 12, receives his last wish – to walk mom down the aisle before dying from cancer
A touching story unfolds as Keith, a 12-year-old boy dying from cancer ask if there is one last thing he can do for her.
Keith Burkett has been fighting cancer for half his life, but when the news came that he did not have a lot of time left, he told his mother, Taylore Woodard:
"Well Momma, I would like to walk you down the aisle before I die."
The 12-year-old had been in home hospice for weeks, and they wanted to grant him his last wish. He would not make Christmas so his mother decided to move up the wedding.
Diagnosed with undifferentiated soft tissue sarcoma at age 7 two years after Keith landed in the hospital on Christmas Eve 2010. Several rounds of aggressive treatment did little to fight off cancer. In May they found it had spread to his liver, pelvis, lower spine, left shoulder and skull.
Taylore's wedding took place in their home in Stow, Ohio on November 9 after which she wrote:
"But my baby boy got to walk me down the aisle and we got to honor his final wish."
Keith Burkett passed away on November 12 after battling with cancer for six years.
On November 9, five-year-old Charlie Proctor from Church, Accrington, Lancashire, also passed away from a rare from of cancer. He got diagnosed in February 2016 with hepatoblastoma, a rare tumor that starts in the liver.
Little Charlie needed a liver transplant, and he was running out of time. His parents were in the process of raising funds in order for him to get an operation in the United States of America, however, they received devastating news.
In October Charlie's parents got told he had about two weeks left. On Saturday Amber, Charlie's mum, posted a picture of him adding that he had told her, 'Mummy, I'm sorry for this.'
That would be the last picture of her son as Charlie passed away that night. Devastated, Amber wrote an update:
"Last night at 23:14 my best friend, my world, Charlie, took his final breath. He fell asleep peacefully cuddled in my arms with daddy's arms wrapped around us. Our hearts are aching. The world has lost an incredible little boy."
When 10-year-old Ava Blaser got diagnosed with Stage 5 Bilateral Wilms in 2011 at age three her determination and strength would go on to inspire many.
This particular form of cancer develop in the kidneys, and she received the news on Father's Day, only five days before her first dance recital.
Dancing gave Ava something to work towards, her dream of being a dancer kept her going. Doctors had to remove her left kidney. Only a partial right kidney remained after 12 weeks of chemotherapy did not save her kidney tissue.
Through everything she danced. Ava's doctor, Dr. Jennifer Reichek at Chicago's Lurie Children's Hospital commented while Ava was undergoing chemotherapy:
"She's getting several days of really heavy chemo that makes most people really nauseated and really exhausted. The fact that this kid leaves the hospital and goes to dance class is unbelievable."
In 2012, Ava got declared cancer-free, but she still went for regular checks with the oncologist and nephrologist to monitor side effects and functionality of what's left of her right kidney.
Ava's cancer returned in January 2018, but it still did not stop her from dancing. After receiving the news in January, Ava had two more surgeries and a round of chemotherapy. Her determination saw her winning a dance competition three weeks after her surgery.
An inspiration to everyone.
Please fill in your e-mail so we can share with you our top stories!