Chipotle manager fired for refusing to serve black customers may get her job back
Chipotle believed they took a necessary and swift step in firing a manager who refused to serve black customers. Turns out, the manager may have been in the right.
Masud Ali, who recorded the incident last week, appears to have a history of stealing food. His tweets spoke of "dining and dashing" and encouraged people to "borrow food."
As a result, Chipotle may backtrack on their decision to fire the manager who asked the men for "proof of income" on Thursday night. The viral video of the incident went viral over the weekend.
Follow us on Twitter for more @amomama.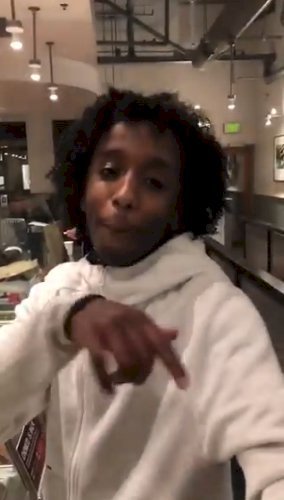 According to the Miami Herald, Chipotle released a statement upon discovery of the tweets:
"Our actions were based on the facts known to us immediately after the incident. We now have additional information which needs to be investigated further. We want to do the right thing, so after further investigation, we'll re-train and re-hire if the facts warrant it."
Tweets from Ali's account from 2015 have since been deleted. One said:
"Dine and dash is forever interesting."
Another read:
Guys we're borrowing food... that's it. And if the lady tries to stop you at the door don't hesitate to truck the [expletive] out of that [expletive]."
Yet another said:
"Not not a dine and dash we're just borrowing the food for a couple hours that's all."
Furthermore, Ali's police records reveal he is on probation for theft.
In the clip from Thursday, the manager asked five men for proof of income before they could get served food. Immediately after, another customer is attended to and no such request for pre-payment is made.
Along with his post on Twitter last Friday, Masud, 21, captioned:
"So Chipotle gonna sit here and tell me I can't eat because they think I look like someone that stole from them before??"
While another said:
"Can a group of young well established African American get a bite to eat after a long workout session. @ChipotleTweets ??"
The employees later said they believed that the men were the same group from another night who didn't pay.
In response, Chipotle released a statement on Friday:
"Regarding what happened at the St. Paul restaurant, the manager thought these gentlemen were the same customers from Tuesday night who weren't able to pay for their meal.

"Regardless, this is not how we treat our customers and as a result, the manager has been terminated and the restaurant [staff] has been retrained to ensure something like this doesn't happen again."
On Saturday, the company went on to explain that they "don't ask customers to pay for their meals prior to making them in our restaurants. The manager should have made their food and withheld giving it to them until they paid for it."
Meanwhile, a Burger King drive-thru worker will not be returning to her job after going on an expletive-ridden rant in October.
Tweets by Masudaliii
The woman was caught on tape shouting racist remarks at two customers. They wanted to have their meal changed due to a hygiene issue.
The woman first attacked the customers with the belief they were white. But when they corrected her, she resorted to insulting the woman in the car about her weight.
Burger King said they have "a zero tolerance policy for this type of behavior" and promptly let her go.
Source: YouTube/ NJ.com
Another incident in August 2018 got one employee fired from a Jersey Shore aquarium gift shop.
A female employee of the store refused to let seven young girls into the store to make purchases. She claimed they needed a chaperone.
When they got one, the woman told the girls "you're not welcome here." She was suspended following the incident and the video went viral on Facebook.