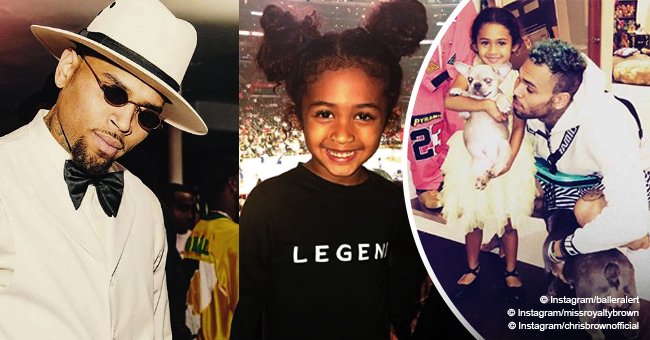 Chris Brown dotes on his daughter Royalty playing with puppies in heartwarming pic
Chris Brown's daughter looks excited about having two new puppy friends in recent pics shared by the singer. Royalty has been in the middle of a petty child support case between her parents, but it seems like Brown and Nia Guzman finally reached an agreement.
Royalty Brown is the light of her father's life, and the "Loyalty" singer would do anything to put a smile on his little princess' face. In one of his most recent demonstrations of love for the 4-year-old, Brown gifted the girl with a brand-new set of puppies.
A photo, shared by Brown on Instagram but then deleted, shows the father-daughter duo playing around with the pups, with Royalty holding up a French bulldog with a smile on her face, and Chris crouching next to her with a baby pitbull between his legs.
The singer later shared another photo of the pups on their spaced cage, looking straight at the camera with an innocent expression. "RAMPAGE & BLADE my lil boyz," Brown captioned the pic, revealing the names of the puppies.
While is not clear why Chris deleted the pic of Royalty with the pups, the little girl is probably on cloud nine with her new friends and wanting to spend more of her time at Brown's house.
But sadly, she has to split her days in between her dad's huge mansion and her mom's two-bedroom house, which has caused the current child support battle between the ex-lovers.
A PITTY LEGAL BATTLE
A few months ago, Nia Guzman filed new documents in court to ask for an increase in the child support she receives from Brown. The model mom alleged that she should earn up to $21k monthly instead of the original $2,500 established by the court. But Brown disagreed.
The 29-year-old stated in court documents obtained by The Blast that paying for more child support would result in "spoiling" Royalty and added "Providing a four-year-old with everything she demands could be harmful and is not in her best interest."
Guzman insisted she has enough reasons to ask for the increase, alleging that she just wants to protect her daughter from Brown's "crazy fans" and for that, she needed to beef up security for Royalty.
However, Brown is not budging to her demands that easily, and while sources close to the pair recently revealed to TMZ that they're slowly coming to a deal that will be in Royalty's best interest, is not likely that Guzman will get her desired $21k monthly.
A NEW DEAL, A NEW HOUSE
But if everything goes well in court and the former flames can reach an agreement, it is said that Brown is willing to increase the child support significantly and, on top of that, he'll buy a new house for Nia and Royalty.
He'll also pay over $100k in Nia's legal costs, but they're still in the process of coming with the details of the contract.
Brown already pays $6,000 monthly for Royalty's private school, and covers medical and nanny expenses, even though Guzman's mother reportedly takes care of Royalty. Add to that $1,770.98 a month for vacations and travel, $1,516.59 for gifts and entertainment, and another $419 for various activities.
It's a bit ironic that Brown rejected Guzman's petition at first claiming that Royalty would become "spoiled," considering that whether they realize it or not, the toddler already is treated like a princess. Which is understandable considering her parents have the possibility of giving justice to her name.
Please fill in your e-mail so we can share with you our top stories!