Dream Kardashian steals hearts with her Thanksgiving outfit & long curls in photos shared by dad
Dream, the daughter of Rob Kardashian and Blac Chyna, hit a beautiful pose in a photo that her father uploaded during Thanksgiving weekend.
In the image, the girl appeared wearing plaid pants and a black top while looking directly at the camera and slightly smiling. Apart from her unique pose, her beautiful hair was the highlight of the image.
In the second picture that the proud father shared, Dream got on the full Thanksgiving ensemble. Apart from her pants and shirt, she was wearing black shoes and a white jacket.
COMPARING HER TO A DISNEY PRINCESS
The following day, Rob uploaded another photo of Dream wearing an orange and white swimming suit and a yellow flower on her hair while playing in a pool. For the caption, Rob wrote, "Moana," comparing his daughter to the Disney character.
It was not the first time that Dream has worn Disney Princesses-like clothes as it was the topic of her second birthday's party. Kim, Kourtney, and Khloé threw the fairy-themed party earlier this month.
The girl looked both adorable and gorgeous in a powder blue princess dress with a floral headband that perfectly matched the blue and white decoration chosen for the party.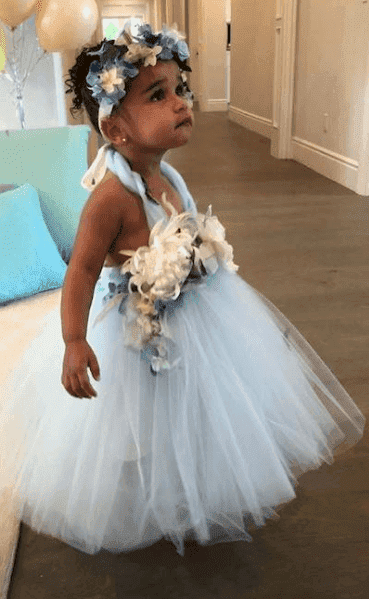 THROWING A PARTY FOR A PRINCESS
To give Dream's party another bit of authenticity, the family hired two women dressed as fairy godmothers who looked just like the characters of a Disney movie.
Thanksgiving looks pic.twitter.com/Qi5omoNcyI

— ROBERT KARDASHIAN (@robkardashian) November 23, 2018
One of the best birthday presents that the girl received was a miniature blue Bentley that had a sparkling painting and a couple of balloons tied to it, proving that blue was the predominant color during that day.
Moana‼️😁 pic.twitter.com/Gk886ZNxvw

— ROBERT KARDASHIAN (@robkardashian) November 24, 2018
DIGGING INTO ROB AND BLAC CHYNA'S LEGAL BATTLE
In the meantime, Dream's parents, Rob and Blac Chyna, are still in the middle of a legal battle as the man reportedly filed to reduce the $20,000 he has been paying in child support.
LOL at her pose 😆😆 pic.twitter.com/Cpk7AeSZnF

— ROBERT KARDASHIAN (@robkardashian) November 23, 2018
Since their public and acrimonious split, Rob and Chyna have been at loggerheads over parenting decisions and responsibilities concerning their daughter.
Details on Rob Kardashian's Strategy on Lowering His $20k Child Support For Blac Chyna By Claiming Broke; How Chyna Wants Him to Keep Paying Even With 50/50 Custody (Photos) https://t.co/Rgc6NxBqt9 via @JeandraLeBeauf pic.twitter.com/vRpNXvLTM6

— Robert Littal BSO (@BSO) November 13, 2018
In court documents, Rob revealed he could no longer afford to pay Chyna the ordered $20,000 per month in child payments.
The man, who claims his monthly income has gone from $100,000 per month to less than $10,000, now believes Chyna, 30, should be paying him child support. His lawyers estimate that he is entitled to $2,864 for his 50/50 custody of Dream.