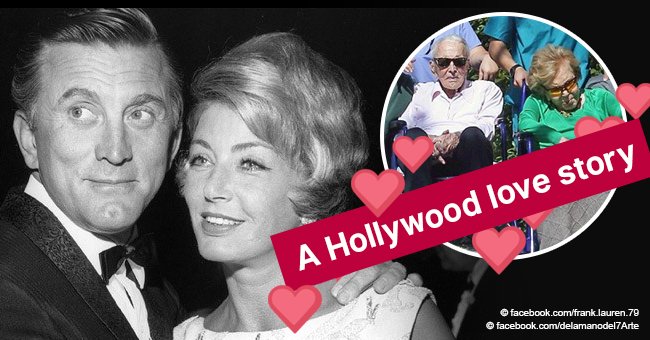 The moving love story of Kirk Douglas and his wife who have remained together for 64 years

Considered the last living legend from Hollywood's Golden Era, the centenarian star has many achievements to be proud of, but the most impressive one is his long-lasting marriage.
The legendary actor will be 102 years old in December, and he is lucky to have his beloved wife of six decades, 99-year-old Anne Buydens, still beside him. Their own story seems to be out of a Hollywood romantic film.
In May 2017, the same month on which they married in 1954, the couple shared their letters to each other with the public with the release of the book "Kirk and Anne," and their writings tell a truly fascinating love story.
On that occasion, the husband and wife gave an interview with USA Today, talking everything from how they met to how they spend their time together nowadays. Read more on our Twitter account @amomama_usa
MEET CUTE
Any good romantic movie couple meets each other for the first time in a remarkable way, with the characters often not getting alone in the beginning but becoming interested enough to later fall in love.
Kirk and Anne certainly met this requirement, although the two have different versions of their first encounter, which took place in the set of "Act of Love" in Paris, with Anne being hired as the actor's interpreter.
"She was the most difficult woman I ever met. I mean, I was a big movie star! And I invited her to dinner and she said, 'Oh thank you very much, but I'm so tired," Douglas recalled. This is how Buydens remembers it:
"[He] took a look at me and then he said, 'Would you like to have dinner tonight with my friends at some chic restaurant?' And I said, 'No, thank you, I think I'll go home and make myself some scrambled eggs,' " she said.
SHE DIDN'T FALL FOR HIM EASILY, UNTIL SHE DID
Being a handsome movie star, Douglas was used to have all kinds of women at his feet, so Buydens' initial lack of interest in him made him even more attracted to her, and he knew he needed a different approach.
"With no romance in the picture, I stopped trying to impress Anne. Instead, I stopped talking about myself and began to listen to her," Douglas revealed.
The two worked together for months and Buydens gradually agreed to spend more time with the star outside of the film set, and one night he did something that finally impressed her the way he expected.
When the two attended a charity gala held at a circus, Buydens saw Douglas jump into the fray and scoop elephant waste while wearing a tuxedo.
"That's what got me. It was not only funny, it was showing me that he was able to do things that are not expected from him," she admitted.
LONG DISTANCE
In 1955, a year after their wedding, the couple welcomed their son Peter. The professional obligations of the two often made them spend long periods apart, sometimes even with an ocean in between them.
"I am so sad and depressed — I don't think I ever wanted to be near you as much as right now," Buydens, a film publicist, wrote to her husband in 1956 while she was working at the Cannes Film Festival in France.
"The toilet paper is too hard, the coffee is too strong ... the telephones are impossible. Don't I sound like a true American? But even being a European broad, what on Earth am I doing here!!!" she added.
A MARRIAGE STRONGER THAN DOUGLAS' INFIDELITIES
The "Spartacus" star was equally famous in his youth for his talent and for his many women. In fact, his first marriage failed because of his numerous extra-marital affairs, often involving his female co-stars.
For many years, Douglas' behavior in this matter remained unchanged, but Buydens was always aware of his escapades and had her own way of dealing with this.
"As a European, I understood it was unrealistic to expect total fidelity in a marriage," she writes, adding that it was the actor himself who told her about his adventures. "I wanted to hear it from him directly, not via an idle piece of gossip."
PRESENT DAY
The stories compiled in "Kirk and Anne" show that even with their up and downs, which everybody experiences, they have led a wonderful and loving life together, and they are so lucky to be around to see the new generations of the family they built together bloom.
Recently, Kirk was happy to meet his then 9-month-old great-granddaughter Lua for the first time. Cameron Douglas, son of Kirk's child from his first marriage, Michael, a famous actor on his own right, is the father of the baby.
Early in November, Kirk also had the opportunity to accompany his most well known son as he was honored with a star on the Hollywood Walk of Fame.
The 74-year-old "Basic Instinct" star proudly kissed his father at the ceremony, and they took a picture together to mark the great milestone in Michael's successful career.
"My dad is here. In a month, Kirk will be 102 years old! It means so much to me, Dad, that you're here today. Thank you for your advice, inspiration, and I'll say it simply and with all my heart: I'm so proud to be your son."
-Michael Douglas, People, November, 2018.
Please fill in your e-mail so we can share with you our top stories!