'Was I tough?': young boy tries to be courageous after having his booster shots
This adorable little boy tried to be brave and stopped his tears after receiving booster shots. He sweetly asked his mom if he was tough for going through with it.
In a new viral clip on YouTube, the little boy is captured by his mother while he attempts to fight back his tears at the doctor's clinic after he had his booster shots.
The boy was asked by his mother how it went and he answered that it was both "good and bad."
Trying to stop himself from sobbing, he adorably asked his mother, "Do I get pancakes?"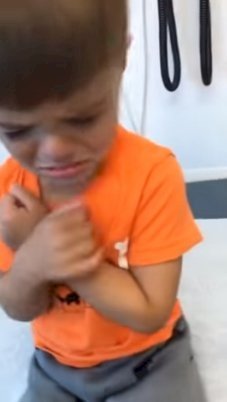 Follow us on Twitter at
AmoMama USA
for more viral stories and videos.
At one point, the mother asked the youngster to show his band-aids. At first, he shook his head, but eventually raised the sleeves on his orange shirt to reveal two colorful plasters on both shoulders.
He was proud to show that he went through with the injections. The boy then gave his mother a high five while his face turned into a grimace preparing to cry again.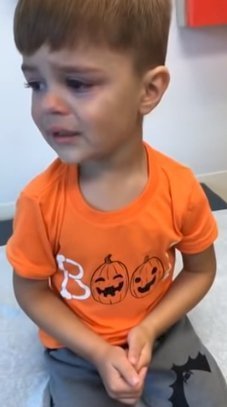 The mother was telling him that he was brave for having his booster shots and urged him to show a tough face.
Suddenly, his sour expression turned into a big smile and he beamed, "I'm not sick anymore!"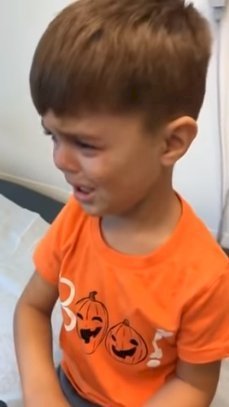 By the end of the 37-second clip, he exclaimed, "Take that, germs!" Then his mother burst into laughter before the video abruptly ended.
For some children, getting booster shots is the scariest thing in the world. It takes a tremendous amount of bravery for them to go through with it. This boy was very courageous to have done it despite his tears.
His video has already been viewed over 15,000 times on YouTube with one of the viewers saying that the clip made his day.
This other boy in the video also had his shots. Even though he was tearing up, he wanted to show that he could take it like a real man.
In another viral story, this young girl gained online attention after she was recorded having an animated conversation with her imaginary friend who she said was her great-grandmother.
Even though she is only three years old, the little girl named Daisy spoke and acted as if she was an adult. Many viewers gushed over how adorable she was in the video.