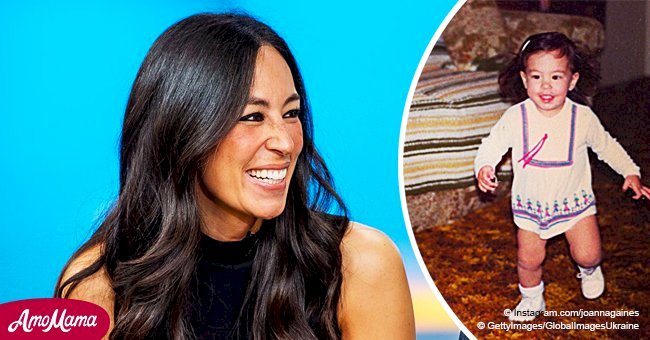 Joanna Gaines' unseen photo from 1979 of her running to the turkey table is cuteness overload
Reality star Joanna Gaines wowed her fans with a throwback thanksgiving photograph of herself from a time when she was just a young girl.
Taking to Instagram, the "Fixer Upper" star shared the previously unseen snapshot, which sees her running across a thick carpet toward the turkey table during the Thanksgiving of 1979.
Gaines captioned her post, "Me in 1979 running towards the turnkey table. Not much has changed…"
However, the famed homemaker and chef did not just share a glimpse of her younger years. She also took time to post a couple of photos from her family's traditional Lebanese thanksgiving feast.
Follow us on Twitter to learn more.
In the photographs, she showcased the food items belonging to her mother's roots such as Syrian donuts, cabbage rolls, and Kibbeh.
As the star engrossed herself in nostalgia, she also shared a photograph of a purse she found in a toy box at her parents' house. She captioned the post as, "Kids were playing dress up and I asked about this purse— [my mom] brought it back from Korea with her 47 years ago. It's my new favorite bag now."
Previously, she also shared some of the photographs of her 4-month-old baby Crew, which included one snapshot where he was getting his thanksgiving nap on.
She wrote in her post, "First time he's been into a [blanket]. This little bunny has been his friend all day. I can't handle it."
Gaines and husband Chip recently made headlines after announcing that they might soon be returning to the television.
While visiting "The Tonight Show," the couple told the host, Jimmy Fallon, about the possibility of a new show with Discovery based on a lifestyle-focused media network.
Chip also joked that they had signed a non-disclosure that didn't allow them to speak about it with anyone except their mother. Then he went ahead and told his mother about the concept of the show on the television.
"So mom, I just wanted to make a quick announcement, we are coming back to television," Chip said on The Tonight Show. "You are going to get to see the kids grow up, you are going to see us, well maybe a six-month delay like the rest of the world, but we are excited to be back."
Gaines shared on her Instagram story her love for a bread maker and suggested her fans to get one for Christmas if they don't already have it.
Please fill in your e-mail so we can share with you our top stories!