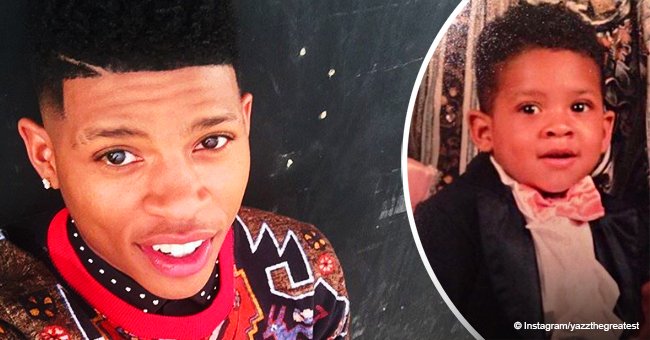 'Empire's Yazz steals hearts with childhood photo of himself on his birthday
Bryshere Grey, better known for his role as Hakeem Lyon on "Empire," recently took to Instagram to celebrate his birthday with an adorable childhood photo. Fans of the star are still waiting for the rapper turned actor to release his first album as Yazz the Greatest, his MC name.
Yazz turned 25 on November 28, and he let the world known it was his day with an Instagram post, where he posted an adorable throwback photo of his toddler self. In the pic, little Yazz looks elegant and smart wearing a black lapel suit with a ruffled white shirt and a pink bow tie.
"Birthday Boy!" he simply captioned the pic, adding a heart, confetti, and lion emoji.
Fans of the star took over his comment section to leave their good wishes and gush about his cuteness and how much he has changed through the years to become the handsome man he is now.
"Happy Birthday boy! More life, more talent. Legend" wrote one user.
Another added,
"Oww what a cute Prince, blessed day Yazz!"
and a third one said,
"You are kidding me with this cuteness! May you post in 2050 what you look like now!! I am happy for you and all the open doors."
YAZZ' DEBUT ALBUM
Grey, a rapper turned actor, got his first ever role in television in FOX's musical drama "Empire." And even though he has released some songs as Hakeem for the soundtrack of the series, fans are still waiting to hear original music from Yazz The Greatest.
Initially, he was set to release his debut album in 2015, but because of the series and other acting roles that came for him, Yazz has been pushing back his material.
Last year, Yazz's manager, the legendary Charlie Mack, told Revolt TV where to expect Yazz's first EP:
"Fortunately enough, but unfortunately, the show is still on," Mack started. And continued:
"We kind of don't want to mix the two because they want to concentrate on getting the show...We have another year-and-a-half before syndication. Once that's sealed up...[Yazz will] be 24 this year. So figure, 25, that'd be a great year. Quarter-century."
So, now that he's finally 25 is just a matter of time to see if Mack was telling the truth or not.
Meanwhile, Yazz keeps delighting fans on the screen with his role as the youngest son of the Lyon family on "Empire."
Please fill in your e-mail so we can share with you our top stories!