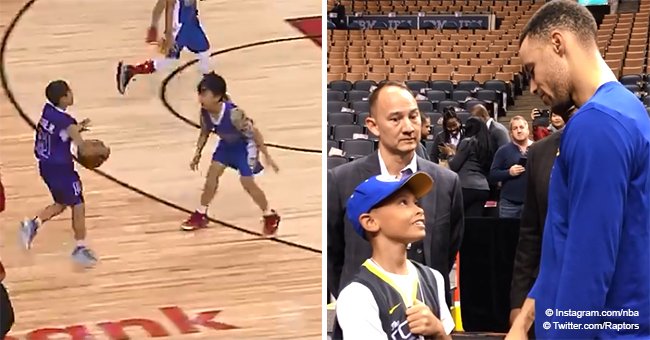 10-year-old boy whose moves on the court went viral meets Stephen Curry ahead of Raptors game

Zachary Acedillo Walker, a 10-year-old boy from Toronto, Canada, surprised the world with his amazing basketball skills. He and his family got to meet his idol, Stephen Curry.
When the Toronto Raptors' Twitter page uploaded a short clip of Zachary dribbling and scoring just as if he was a professional player, he attracted the attention of several people who retweeted the clip.
Once they visited his Instagram page, they realized that Zachary's performance in those 12 seconds was not uncommon as his feed is filled with videos of him excelling at basketball.
Not only he handles the ball like a pro but also scores as if it was not difficult at all. Several sports outlets have compared him to Stephen Curry due to the style he shows on the field.
MEETING THE STAR
Of course, the Golden State Warriors player had to meet the star-to-be in person, so the NBA arranged a meeting at the Scotiabank Arena before the Toronto Raptors and the Golden State Warriors match.
After taking photos and introducing a couple of members of Zachary's family to Stephen, the 10-year-old boy revealed that he couldn't remember what the NBA star told him because his head was "all over the place."
"I can't believe it. I still think I'm asleep and dreaming. The person that I watch the most is actually following me and sent me a direct message and then I actually met him," said Zachary.
Apart from talking and taking pictures, Stephen signed a pair of sneakers and the back of a Warriors jersey. The boy admitted that if he works hard, maybe he could play with Stephen one day. "Steph really motivates me to be better," he finished.
GETTING IN TOUCH WITH ANOTHER CHILD
It is not the first time that Stephen gets in touch with a child as he wrote a letter to Riley Morrison, a nine-year-old girl from Napa, California, who was concerned about not finding Under Armour Curry 5's online in the Girls section.
Riley wrote him a letter first, saying that the shoes were only on the Boys section online and that, since Stephen supports girl athletes, she hoped he could work with Under Armour to change it because "girls want to rock" his shoes, too.
Soon after girl's advice went viral, Stephen took to Twitter to share his handwritten reply. He confessed that they labeled smaller sizes as "boys" but that they would correct it. "I want to make sure you wear my kicks proudly – So I am going to send you a pair of Curry 5's now and you'll be one of the first kids to get the Curry 6," added Stephen.
Finally, he revealed that they were planning something special for International Women's Day on March 8 and he wanted Riley to celebrate with him. Stephen's response got a lot of positive messages on Twitter, saying that he was a role model and that more athletes should be like him.
Please fill in your e-mail so we can share with you our top stories!