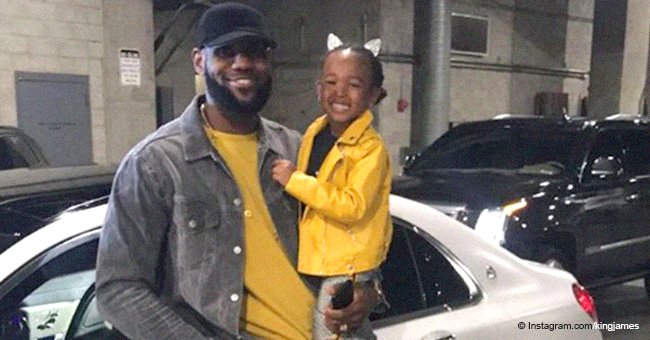 LeBron James and his little daughter rock matching outfits in recent picture together
LeBron James shares another sweet moment with his daughter. This time he delights in coming home to her arms after a game and seeing that they share the same wavelength in fashion.
LeBron James is a doting father to his only daughter and youngest child, Zhuri. In his recent display of affection towards her, father and daughter are encased in a hug while wearing matching outfits.
LeBron has been very vocal about his daughter's profound effect on his life. During his acceptance of his Harlem Fashion Row 360 Award in September, he opened up in his speech about how Zhuri, who accompanied him on stage, changed him for the better.
"Three years ago, this bright spot right here happened to our family. And not only did she change me, she's made me a better person. A more dedicated person, a stronger person. I guess a more sensitive person that realized that I have so much more of a responsibility to women in general. So, thank you, Zhuri."
LeBron's love for Zhuri is evident in many of his social media posts about her. In one of them, he reveals she's the boss whenever she rides with him in his car.
He also delights in his daughter's fashionable sense. The post below proves how much he admires her.
Likewise, he indulges her when she's in the mood to play. Check out this post where his daughter he calls "my Princess Z" adorably smiles for him while riding a bike.
With the way LeBron dotes on his daughter, it's understandable why for him, the best part about coming home after a game would be running to the arms of Zhuri. His latest post is a testament to this.
LeBron reveals in his caption that he had just come home from a victorious game and was surprised to see his daughter dressed in the same colors he was. And "the best part about a post-game win", he says, is "Being smothered by Daddy's lil Princess!!"
In both photos he shared, he's carrying Zhuri. In the first image, he's giving his daughter a peck on the cheek while in the second, both of them are smiling for the camera. They appear to be in the garage, Zhuri no doubt ran out when she realized her father was home.
Zhuri is certainly becoming quite the internet sensation. Thanks to her father who shares her to the world with pride.
Please fill in your e-mail so we can share with you our top stories!