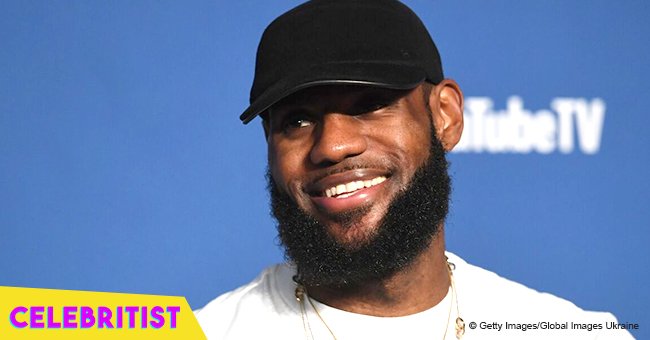 LeBron James' daughter enjoys ride in luxurious car with her dad in recent video
LeBron James will be making his official debut with the Lakers on Thursday, but meanwhile, he's spending quality time with his adorable 3-year-old daughter, Zhuri. The NBA superstar wasn't embarrassed about singing to some Disney songs alongside his little girl, in clips shared to his Instagram.
LeBron James is gone for his daughter, and that's not a secret to anyone. The baller recently took to Instagram to share some videos while enjoying a ride in a car with Zhuri, and while James is usually in charge of the music on the car, he gives up the DJ title to his daughter whenever they're together.
In the clips, James and Zhuri are jamming to the soundtrack of Disney's "Frozen." First, they were listening to "Love Is An Open Door," while Zhuri tried to follow along with the lyrics of the song. And minutes later, the father-daughter duo showed their histrionic abilities singing together to "Let it Go."
"She controls the music when she rides with me. The Boss aka Baby Z! "Love is an Open Door" from Frozen soundtrack #MyPrincess," James captioned one of the videos. Fans took over his comment section to gush about his parenting skills and his adorable daughter.
RIDING IN STYLE
"Too cute! Loving this, nothing like Family Love!" wrote one user, another added, "She is adorable! This is so sweet! Good Dad!" and a third one said "ope I can become half the father you are one day! Appreciate you leading by example. Much respect @kingjames !! Btw I think you enjoy that song more than she does lol."
According to USA Today, LeBron and Zhuri are riding on the back seat of a luxurious 2018 Mercedes-Benz Maybach S650, which has a base price of $240,500. The car has the perfect sound system for young Zhuri to enjoy her favorite Disney songs.
THE QUEENS OF LEBRON'S LIFE
James recently released his newest collaboration with Nike, his first shoe line for women called the HFR x LeBron 16, which three talented African American women designed. He explained that the inspiration for the collection came from the strong presence of women on his life: his wife, Savannah James, his mother Gloria, and of course, his adorable baby girl Zhuri.
"As someone who has a platform, because of what I do, I thought it was important to lend that platform to a group of people that I believe are under-recognized," LeBron stated.
"Being the son, husband, and father of strong African American women, I felt like this was something I wanted to do for them and for all the strong women out there who are succeeding despite what might be stacked against them."
Besides Savannah, Zhuri and Gloria, other iconic women like Serena Williams, Simone Biles, and Cari Champion joined the ad campaign for the shoes, which features the women posing like royalty.
Please fill in your e-mail so we can share with you our top stories!